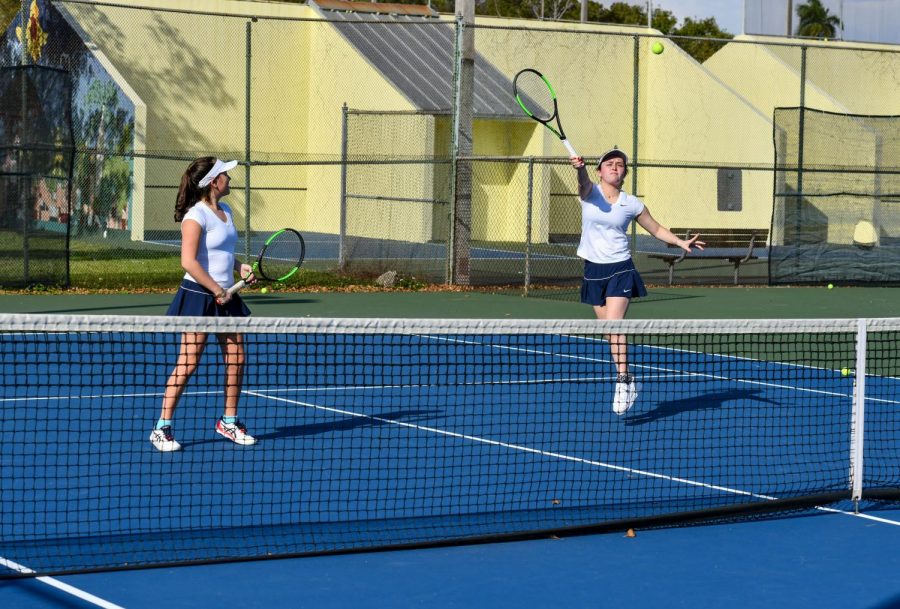 The school's tennis team finished their season last week after months of hard work and dedication with a successful end to the different competitions held.
Tennis season started in February, and since then on the team has proved to be pure effort and constant victories. The team is made up of five singles and two doubles, all of them making it to the semifinals and one singles team to the finals.
"This has been the best team we've had in eight years, made up of really talented people and an outstanding group that knows how to come together in a sport that is known to be mostly individual," said tennis coach Stephen Hernandez.
Seniors Paola Socarras and Ana Cecilia Castillo are the most accomplished players on the team. Socarras made it to the finals and was undefeated throughout the season. Castillo has been playing tennis since she was five years old and expects to commit to the sport in college. These two contributed to taking the team as far as it went, almost qualifying to the states competition.
"I've played tennis for thirteen years, but this was definitely the best season we've had so far with a very strong team," said Castillo. "I really enjoy doing tennis because it helps me forget about all my problems and gives me a constant rush while playing with strategy."
The team, even under the unprecedented circumstances that Covid-19 has presented, has known how to succeed in the sport and take on a seamless transition while adapting to the safety protocols. It is a sport where students are allowed to separate themselves from the academic demands they are asked for at school and just give their best on the court.
"It is really nice to see everyone contribute to the sport and to see students outside of the academic setting," said Hernandez. "Seeing really talented people come together is something that makes the sport special."
The season ended the week of April 13th, and the team looks forward to the different opportunities they will have next year, for the seniors in college and the rest of the team as they represent the school's name and hold it high.