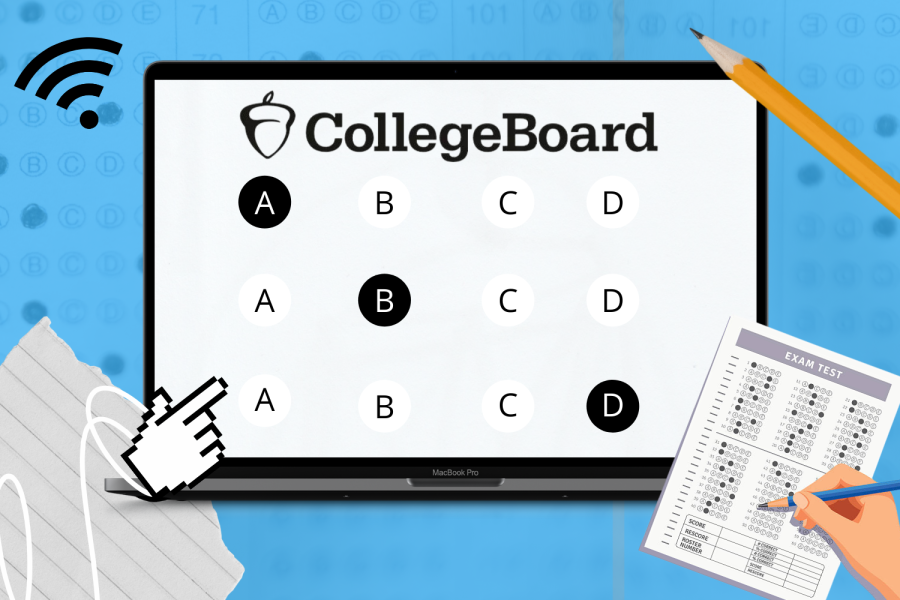 Stephania Lopez
On Tuesday, January 25th, college-entry standardized testing mogul CollegeBoard announced that they are changing the good old-fashioned pencil and paper to tablets and laptops beginning in the 2023-2024 testing cycle. 
Known for administering the notoriously dreaded SAT, PSAT, and other standardized tests, College Board has been a staple in students' college admissions for decades.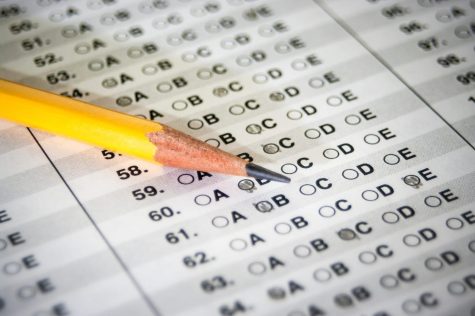 Although a handful of colleges and universities were test-optional, many of students' coveted schools were still requiring testing scores. But come 2020, the coronavirus pandemic changed college admissions for good. 
The tests' omnipresence began to fade as many more colleges began to discard these exams as a basis and prerequisite for students' admissions due to student availability and health precautions occurring at the time. 
And rightly so. As a former SAT test taker, I don't find standardized testing should hold any weight in a student's opportunity to enter a university of their liking. 
With costly exam prices that pile up every time you schedule a test to mountains of dollars in prep books and tutoring, standardized testing has become a standard that belittles students of their intelligence rather than give them the confidence they need to face this new stage in their lives.
Amid its dwindling relevance, CollegeBoard remains steadfast in continuously being a priority in the lives of high school students with its newly founded digital switch. 
"The digital SAT will be easier to take, easier to give, and more relevant," Vice President of College Readiness Assessments at College Board Priscilla Rodriguez said in College Board's published news brief.
The digitization of the SAT will bring new benefits to its administration and most especially to students taking the exam, while maintaining some aspects familiar to those who have already taken the exam.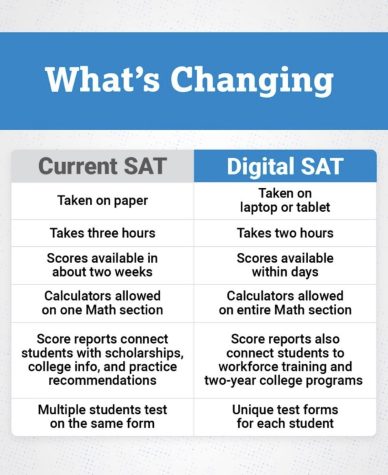 Shorter Testing Time, Quicker Availability 
Known for its lengthy proctoring, the exam will now be shortened to two hours compared to its previous three, allowing for more time per question, in addition to its once two weeks long score availability being ready within days.
I think it's great for students that their scores will be received faster," senior Samantha Bezos said. "Personally, I was faced with weeks of waiting and then receiving my scores days before my next test date. This allows students with the time to analyze their scores and decide if they truly need to take the exam again."
The reading sections will be shorter with one question tied to each passage, ones reflective of a "wider range of topics that represent the works students read in college," according to CollegeBoard's Tuesday announcement.
Good News Non-Mathematicians!
The once one-section restricted calculator is no more. CollegeBoard announced that permitted calculators are allowed on the entire math section. 
Unique Tests for Each Student
This new change will rely on adaptive testing, offering students with their tests' ability to change based on the students' answers. Through this, CollegeBoard hopes to reduce the time students spend answering questions that are either too easy or too hard. 
Work Ready To Save
Although we live in a highly digitized world, there are always some issues we face, especially with connectivity or power. The digital SAT will be designed to ensure that students' work is saved, not losing neither their work nor time as they reconnect.
These changes will surely change the game for students who have never taken the SAT before. For those who have, however, there will certainly be some familiarity for them to hold onto.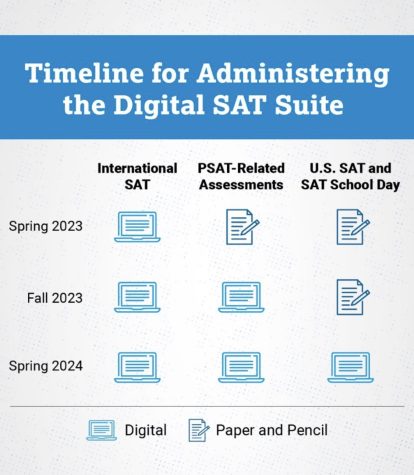 CollegeBoard announced that the exam will still: 
Test the knowledge and skills students are learning in school.
Be scored on a 1600-point scale. 
Be administered in schools and test centers.
Have free, world-class practice on Khan Academy.
Support students who may need accommodations.
Connect students to scholarships.
While CollegeBoard states they received positive feedback, many students who have already taken the paper-exam are not so happy to see things changing.
"I think it's being done to give students a better chance to get into college,"  junior Andrea Dominguez said. "I don't think it is fair for those currently graduating or that have already taken the previous exam."
Dominguez is not the only one who believes in the easiness of the exam, let alone its effects. CollegeBoard pilot students who took the digitized exam this past November believed the exam to be less stressful and quicker than expected. 
One could argue, however, that this change is what many wanted all along. Students are finally being accommodated to their needs and can be judged on their personally catered questions.
Nevertheless, even with CollegeBoard's detailed overview of their new plan, it's tough to judge an exam none of us have seen yet. 
The new exam will become available for international students starting 2023 and for United-States students in 2024.
Now, it's your turn to decide. Is this a smart swap or an inevitable flop?