Kelsey Figueras: OLLA's New Senior Class President
No one knew what was happening when current Junior Class President, Nicole Jaimes, stepped onto the OLLA TV set and announced her resignation from the position of Executive Board President. 
A few weeks earlier Jaimes had been elected to the position in a tight race against fellow council member, Paola Lista. The win was celebrated by many of Jaimes' friends and classmates, so when she stepped down, few knew how to react. Nonetheless, she left behind a vacant position that would be taken by Lista, and as a result lead to a cascade of promotions. Kelsey Figueras, who was projected to be Senior Class Vice President, had now unexpectedly assumed the role of Senior Class President. 
"I was so surprised because we didn't know Nicole was stepping down," Figueras said. "I really didn't think I was in the running to be president." 
This unexpected turn of events left Figueras with a new list of responsibilities and challenges for the next school year, but her past experience on council has given her the confidence that she will perform her duties well. 
"Since starting on council freshman year I have had to learn how to manage my time," Figueras said. "It is all worth it, though, because I love being involved and getting to spend so much time with the other council members." 
Figueras especially looks forward to spending extra time with the upcoming senior class as they embark on their last OLLA journey. 
"I'm so grateful that now I have the important responsibility of becoming friends with my whole class and uplifting our bobcat pride one last time," Figueras said. 
Although she is optimistic about the year that is to come, Figueras still finds that she is nervous about the role she is about to assume. First semester of school for seniors is commonly known as one of the most stressful times in a high school career, but it is especially stressful for those with added responsibilities. 
"I'm most nervous about the time commitment," Figueras said. "I know I can handle it, but it will be difficult with college applications and the hard classes I am taking next year." 
Nonetheless, the future senior class president does not let these worries deter her from the excitement of what is to come.
"We have already started planning for an amazing year," Figueras said. "We're actively preparing for senior lock-in, and will be planning senior skit, hall wars, and more fun events in the future." 
With this in mind, Figueras is honored to have this opportunity bestowed on her, and plans to make the best of it. She leaves the upcoming senior class with some final words. 
"I am so excited for next year," she said. "I am going to try to make it the best year possible, especially since it is our last one. We are going to have an amazing senior year!"
About the Writer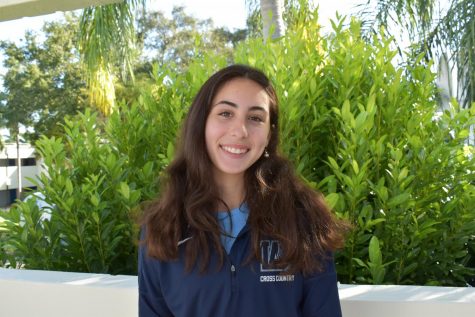 Lucia Moglia, Staff Writer
Lucia Moglia is currently a Junior. She is the president of the Creative Writing Club and co-founder of its Book Club branch. She is part of the varsity...