SuperBowl's StarBoy
The Weeknd performs over the top Super Bowl Half-Time Show.
Family, friends, and coworkers all over the country took Sunday to sit back and watch Super Bowl LV as the Kansas City Chiefs played the Tampa Bay Buccaneers. No matter which team spectators were cheering on, the halftime show usually unites both sides and really gets the party going.
This year, Abel Tesfaye better known by his stage name, The Weeknd, performed at this nationwide event. In order to assure that the performance was his "cinematic" envisionment, this top charts artist spent $7 million out of pocket. From special effects to props, the 2021 Super Bowl Halftime Show came with high expectations.
After watching, it was clear that a great amount of money was needed to create such a production. The vision is in respect to his most recent album "After Hours" that features Las Vegas as its main setting.
Chaotic and illuminated, the show as a whole had multiple location changes to best suit its majorly virtual audience.
"I thought the show was super entertaining and I personally love The Weeknd. Seeing him tie in all his songs so perfectly was really cool," senior Alessandra Infante said.
The opening set was a scene similar to what one would see in a Las Vegas postcard complete with a sports car and a variety of Las Vegas casinos and hotels while the main stage was set up to depict the nighttime city. Each building was coupled with a dancer dressed reminiscent of a southern church Gospel singer.
Lively and energetic, the performance certainly didn't bore the audience.
"The performance featured all my favorite songs of his and all the lights and special effects really added to the cinematic aspect of it," junior Sammy Bardisa said.
After being lowered down from the "sky" The Weeknd began his setlist with "Starboy", a fan favorite. Transitioning into a tunnel of lights that was an allusion to his "Blinding Lights" music video, The Weeknd went into full swing with a number of backup dancers dressed in his likeness.
The performance began to slow as he sang "Earned It" accompanied by a ensemble of violinists. This was a brand new take on an already popular song that both intensified it and made up for the lack of dancing and in-your-face effects during this part of the show.
The finale was located on the football field as The Weeknd and his twin dancers filled the grounds presenting "Blinding Lights" as the closing number. Using lights added a brilliant effect that kept the watchers attention during the final moments.
About the Writer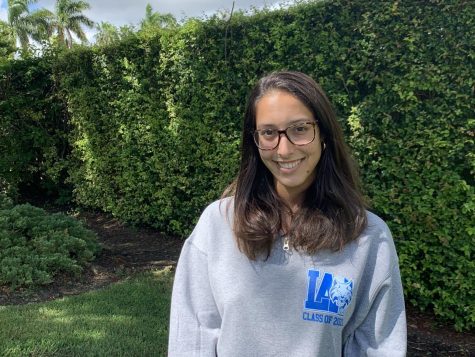 Sofia Pereda, Editor In Chief
Sofia Pereda is the Editor in Chief of the 2020-2021 Grotto Newspaper. She began working on staff in her sophomore year and is excited to continue to pursue...