VanKa: An Up and Coming Print Shop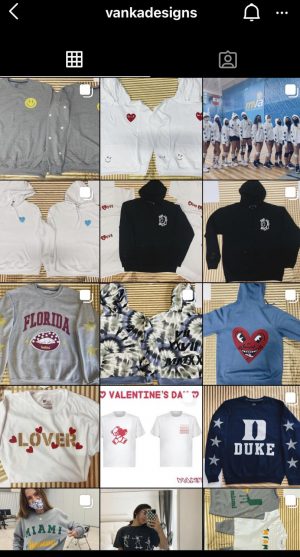 Among the many ambitious Bobcats that have opened their own small businesses while juggling school work and extra curriculars is Vanny Guerra owner of Vanka Designs. Senior Vanny Kamyla Guerra manages to run her business with great success despite being a busy student.
Creating a brand as a young entrepreneur isnt easy but a passion for business is the fuel that helps busy owners persevere. Vanny Guerra is no different.
"I've always wanted to do something of my own and coming from a business family, I've grown up around entrepreneurship so it was only natural that it became a big interest of mine," Guerra said.
The name was inspired by the owner's first name, Vanny, along with her middle name, Kamyla.
"I meshed my two names together and I loved it," Guerra said
Coming up with the idea was relatively easy, according to Vanny, because she knew she wanted something unique and fashionable.
"I wanted to mix business with creativity and I've always been into fashion and so Vanka was born," Guerra said.
She loves how her brand is completely customizable so that every customer feels like their apparel is personalized for them.
"I purposely made it so that anyone can customize whatever they want on any apparel whether it be sweatshirts or hoodies or pants," Guerra said.
Originally debuted as a print shop, Guerra opened for business in September of 2020 selling mostly T-shirts both customized and pre-designed. Despite it being a young business, Vanny has already seen VanKa grow and evolve from T-shirts to more.
"I started off with T-shirts and now the shop has veered more towards sweatshirts, hoodies, and sweatpants," Guerra said.
As her brand has grown, Guerra struck gold in customizing college sweatshirts.
"My most popular product now is definitely college sweatshirts. I saw the demand for it because my senior peers are getting into colleges right now so a lot of them want new, cute apparel to go along with their future school," Guerra said.
Vanny isn't done expanding her brand. She has plans for a constantly growing and changing VanKa Designs.
"A big future goal is to make my own tags for the apparel but my main priority right now is to focus on spreading the business and making it well known throughout my demographic," Guerra said.
The OLLA Community has many up and coming entrepreneurs with bright futures ahead of them. To start them on the right track, the face of Vanka wanted to share some advice she learned along the way.
"The only way to get your business out there and going is if you truly like what you're doing. Don't be in it for the money because you wont start off with a big profit. Love what you do and put in the work, the rest will follow," Guerra said.
Guerra is always creating new designs and showcases them on instagram, she also customizes requests.
"I'm always available to help you bring your design to life. Just message me and we can create your vision together!" Guerra said.
Follow @VankaDesigns