Cheerleading Team Heading to Nationals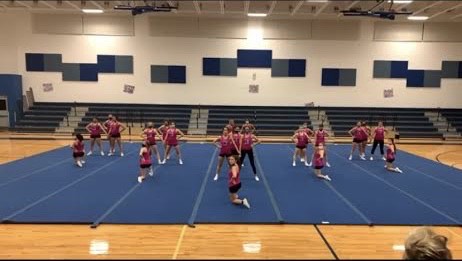 Coming soon in the cheer season is the Cheerleading Team Nationals competition. An intense and thrilling experience that our cheerleaders look forward too. Despite Covid-19 and all the setbacks it has brought, the Varsity Cheerleading Team has exceeded their limits.
The Cheerleading Nationals is an invitation only competition. Meaning only the best of the best can attend. And without a doubt, the school's varsity cheerleaders are some of the best athletes.
"Due to Covid our season started later then ever and I didn't even know if we were going to be able to attend competitions, let alone nationals. We still trained day after day and worked hard, which lead to the invitation of the National Competition," said senior Natalia Gonzalez.
The date for the nationals competition is April 23rd-25th, and the girls have given all they can to their team and coaches. Despite the injuries and Covid related absences, the cheer team has come back stronger then ever before. With it only being their second year in the FSHAH Cheerleading division, they have accomplished what they set out to do.
"Even though for the majority of the team it's our second year in FSHAH cheerleading, this years experience has been a first for all of us. We are all learning and growing stronger together, that's what a team is all about," said Gonzalez.
About the Writer
Mia Lynne, staff
Mia Lynne is a senior at Our Lady of Lourdes Academy. Her favorite subject is English. She is passionate about cheerleading and loves to be active. Whenever...