Students Honored for their Hard Work
Honor Society Induction Resumes in a Split Ceremony
Each school year, the honors societies of the school host an induction ceremony to welcome new members. Though this ceremony unfortunately was unable to happen during the 2019-2020 school year, the school wanted to honor these students for their hard work.
On April 22 and 26, students were inducted into the honor societies they qualified for during the last school year, as well as the current school year.
Fortunately, this induction ceremony was in-person for all students during the FOCUS block and was live streamed for proud family and friends. Over 300 people watched the live-stream on Both days.
Both ceremonies went smoothly, from the carrying in of the flags by the Honor Society Presidents to the final congratulatory speech of President Sister Carmen. Virtual students were even allowed to attend this ceremony in-person with their fellow peers to receive their certificates and a sunflower.
"Speaking at this ceremony made me feel like I was representing my country, Venezuela, as the president of the Spanish National Honor Society, as well as my classmates" senior Ceci Cardenas said.
Cardenas was also inducted into the Quill and Scroll Honor Society during this ceremony and was proud to join.
Presidents of the 15 honor societies were tasked with the responsibility of processing to the stage with their flag, lighting their tapered candle from the Light of Knowledge, and inducting new and fellow members.

About the Writer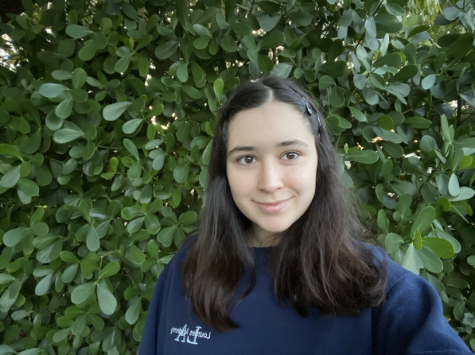 Carolina Rodriguez, staff
Carolina Rodriguez is a senior at Our Lady of Lourdes Academy and this is her first year as a member of the Grotto staff. She enjoys being president of...