Welcoming the Class of 2025
Introducing OLLA's newest students, the Class of 2025: what makes their class unique, their new experiences starting high school, and all the things they have to look forward to.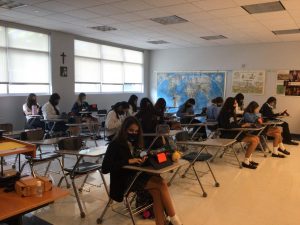 Mia Michele Aviles[/caption]Although the freshman class' introduction to high school is far from how it used to be, speaking pre-pandemic of course, we're finally back in person this year; giving us an opportunity to give our youngest sisters the brightest welcome.
Despite not getting to finish their middle school years as intended, we're hoping to help them make up for lost time and share the things that make Lourdes, Lourdes. With Orientation, Freshman Retreat, and the First Day of School back to back, OLLA has given them stable legs to walk right into Welcome Week. Hand in hand with both their Big Sisters, who they have not had the pleasure of meeting yet, and their Junior Mentors, to guide them through the transition into the school's rigorous curriculum.
The Class of 2025's freshman year is unlike any we have seen before, including a new catering company, new classes and core curriculum, new teachers and staff, and new programs to help them along the way. Some things stay the same, though, the unwavering fluttery, exciting feeling before their first day and the thoughts of endless possibilities for the next four years.
One thing we can all agree on is that the new freshmen are filled with a unique, bursting excitement.
"They are engaged, ready to participate, and it's wonderful to see," said President Sister Carmen Fernandez.
Our youngest sisters are eager to be a part of the school community and enjoy all the traditions of our sisterhood.
"Lourdes is exactly what I expected, the Orientation really was what helped prepare me," said freshman Alyssa Bascuas.
Most freshmen have first day anxieties about meeting people and making friends on their first day. The school has created many opportunities to welcome all students and give them a real sense of who we are.
"I am most looking forward to the different activities like OLLA Fest and meeting my big sister," said freshman Olivia Delgado.
The feeling is mutual with all of the seniors, preparing green baskets to present to their little sisters next week. The Class of 2025 has a bright, exciting year ahead of them and the school community cannot wait to see what they accomplish.