Splashing Into The School Year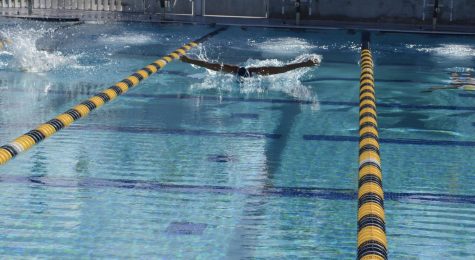 Our OLLA swimmers are splashing into the school year with new teammates, coaches, and expectations as swim season begins. 
In order to test their abilities, swim tryouts held August 2nd through the 4th at Tamiami Pool, provided three days of practice, warm-ups, and conditioning. Swimmers were assessed in a variety of events, recording their times as reference points for the upcoming season. 
As students began adjusting back into the once-known normalcy, changes were made during the annual tryouts this year.
"Tryouts were different this year because this was the first time we separate varsity and JV, so it was a little bit more competitive," said senior Carolina de la Vega. "We divide into lanes by experience and Coach Murphy will give everyone a set of either 4-300 meter freestyles or 8-50 meter butterfly, modifying for each lane." 
The swim team's united bond brings back swimmers every year, creating opportunities for healthy competition and genuine fun. 
"I've been swimming since freshman year, with a break during sophomore year, so it wasn't really a question as to whether I would or wouldn't," said senior Alessandra Valdes-Alberti. "I just want to have a great last year with my friends on the team, enjoying and having fun." 
"I decided to rejoin the swim team because I've really enjoyed it since my sophomore year, competing with my teammates and it's great exercise as well," said senior Carolina Vázquez. "I'm ready to beat my old times and hopefully compete in breaststroke."
Due to COVID-19 safety regulations, last year's uncertainty provoked many changes with scheduling and the swimmers' abilities to participate in a variety of activities and competitions.
"I'm excited. Last year we were cut short, only having two competitions. This year we have a full schedule," said Head Coach Mr. Brandon Murphy. 
With a bright season ahead, Assistant Coach Mr. Andrew Hart is excited for the OLLA swimmers to tackle their goals, in and out of the pool. 
"I want them to have fun. For the team, it's a little bit of both fun and competition, in order to have a strong team that's able to compete with some of the other teams at the next level and for them to make it to districts, or regionals and states afterwards. That's certainly an awesome goal for them to achieve, if they do," said Mr. Hart. "At the same time, it's just helping students, helping kids, on the swim team reach their own personal goals and levels of what they want to make out of it—I think that is the most important aspect." 
The swim team is currently practicing vigorously for their next swim meet on September 10th versus Braddock at Belen Jesuit Preparatory School.