Ready, Set: The Start of Sports Season
Varsity Volleyball team sets their sights on a new season.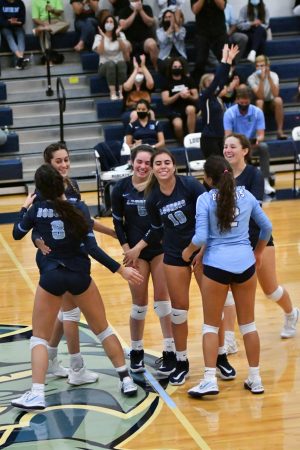 With their first tournament landing on the first day of the 2021-2022 school year, volleyball kicked off the school's fall sports season.
The volleyball team won both tournament games, and they look forward to similar outcomes for their future games. The school's volleyball team currently holds the title of Top 10 in the district out of a hundred teams. The team has been practicing since May with tryouts held on August 2nd. As the season progresses, the team continues practicing 5-6 times a week. Last season they made it to district semi-finals. This year, each player works even stronger together to strive for winning Regionals, then the State Championship.
"The fact that I made varsity as a freshman is a big accomplishment for me. I look up to the seniors on my team to strive to be at their level and work hard to prove my spot" said freshman Ella Garcia.
The season ends on October 16th. The Dig Pink game, against Carrrolton, is scheduled for October 14 against Carrollton. This traditional game is hosted by the school for the seniors' last home game. The big, familiar crowd dresses in pink with the gym decorated as well; all the proceeds go to Breast Cancer Awareness. For the first time, the Dig Pink game lands on the same day as Senior Night. Some senior night traditions include the other players creating posters and designing lockers for their senior teammates.
"My favorite part of the season is Dig Pink because we have the biggest crowd, the whole game has really high energy. That game is always super fun and it's one of the highlights of our season," said junior Carmen Rionda, member of the volleyball team.