Say Their Names: Women Disappearances & What That Means For Their Safety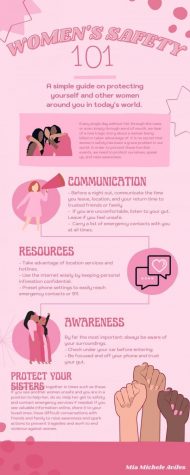 The ongoing case of 22-year-old Gabby Petito has the nation at the edge of their seats, as the FBI continuously releases information as the case progresses. 
But why does this newly discovered case have women worrying about the dangers of their safety in their very own backyard? The dangers of the people they trust.
Florida native Petito and her fiance Brian Laundrie, 23, embarked on a cross-country trip from New York in July. Moving westward, Petito and Laundrie, making their way in a white Ford van, posted a variety of videos and photos of their journey to different social media platforms. 
On Sept. 1st, Laundrie returned to the couple's Florida home without Petito, raising the question of his involvement in her disappearance, later declared missing by her family on Sept.11th. 
"It's sad what's going on," said Theology teacher Ms. Lina Ramirez. "What happened to her was horrible, especially the way her loved ones had to search for her and it really makes me think of all the missing women that are out there who's cases have not received the attention that hers has."
Unknown remains were found, matching Petito's description, on Sept. 19th, and were requested for an autopsy. Days later, this autopsy was ruled as confirmed to be Petito's—the case now titled a homicide investigation. 
Laundrie continues to be investigated following his disappearance and lack of response to federal questioning following his return.  
The entirety of the nation has placed their eyes on this case, shedding light on the importance of women's welfare in our country. Attention on this specific case has allowed for other organizations to bring awareness to the tens of thousands of women continuously unaccounted for and pronounced missing—their names never written on any headline. 
The constant targeting of women, let it be as horrifically as this incident or the staggering sexual assault cases piling up on law enforcement's desks, has certainly prevented women from feeling safe. 
"As women, we should be more careful," senior Sofia Tapanes said. 
I find that while, as human beings, we are to be careful in any situation, women should not be the ones burdened and construed into the societal "shoulds" when they, themselves, are victims of the innate fear instilled in them for solely being women.
Society should educate and bring up people in general, regardless of their gender, cultural background, or even their nationality, to be respectful and decent human beings. 
"Girls have always been careful about who they surround themselves with," senior Elodie Ghonda said. "I think this is just another case that shows the public why women are so afraid and have continuously grown to be."
The uncertainty of walking alone at night, holding onto the pepper spray bottle you have tied to your house keys, or grabbing tightly onto your handbag when walking alone to your car in a dark alley. 
I find that, as a Latina young woman, it can be extremely difficult to see one's own gender, amongst any human being, unacknowledged in the media, especially when it comes to their value as human beings. 
According to the National Crime Information Center, studies have shown that as the pandemic has progressed, disappearances of latina and black women have grown exponentially, posing the question: what can we do now? 
By speaking about these cases and saying their names we can promote the importance of placing these societal issues at the forefront of our minds. 
While I understand it can be difficult for many to find the will to prioritize the women, of whom they have no relation towards, I think we, as an all-girls institution, can find solidarity with these women and their families in order to bring awareness to these issues.
Just some of the many instances women face constantly, it's our responsibility to step up and speak out about these injustices. 
"We can start promulgating various cases in which women have yet to be identified, in light of spreading awareness and causing influential change," senior Victoria Fernandez said.
Fostering prominent voices in safe spaces will certainly promote women to become a voice for the voiceless; to seek change and be the change.