Cheer Team Jumps Back into Competition
The Cheer Team jumps into new season with an incredible start. They have bonded as a whole and are determined to win Nationals.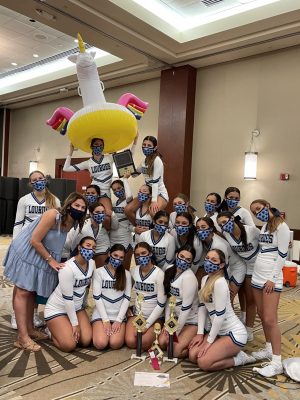 "Both teams are incredibly close which makes each practice even more fun. I believe this year will be a very successful year," Coach and PE Teacher Ms. Victoria Goudie said.
Both JV and Varsity have been practicing since the summer to perfect their routines and chants.
"Starting in the summer gives us more time to practice before nationals and gives us the opportunity to bond as a team and gain trust with each other for the stunts," sophomore Capri Casal said.
The Varsity Cheer Team hosted tryouts in the last two weeks of May to begin the start of a new season. They practice two days dedicated solely to work on stunts and routines to prepare for all competitions and especially nationals. On Wednesdays, they practice and work on tumbling to prepare for games and competitions.
"We normally have two or three regional/state competitions and our goal in these smaller competitions is to qualify for the national competition at the end of the year," senior Lily Vizcaino said.
The Cheer Team is finally back to normally after a year and a half of changes with new members. The coaches and girls are looking forward to the new and exciting events for this season.
"I didn't love last year because we weren't able to attend all the competitions and games, but I am looking forward to being able to experience it all," said Casal.
Coach Goudie agrees that last year wasn't the same, so she is so excited to make this year the best year.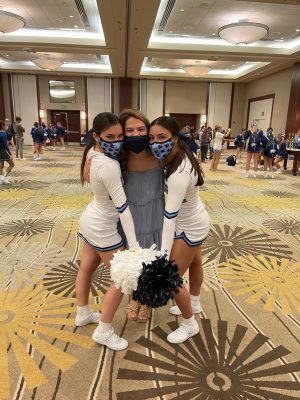 "We have already performed at the Columbus Football Games for the past three weeks and the girls have bonded so much which makes teaching them even more rewarding," coach Goudie said.
The team has created a special bond that will last a lifetime. They encourage, support, and lift eachother up to become a unified team.
"I love my team so much. They make everything fun and I can't wait to cheer at more games with them. Having games and competitions to work towards is what makes a season so great so we're all very excited and thankful," Vizcaino said.
About the Contributor
Elisa Ramirez, Assignment Editor
Elisa Ramirez is a senior. This is her 2nd year involved in the Grotto News. Elisa is on the Lourdes Cross Country. Her love for taking pictures started...