Bobcats Take On The Green
As the golf team approaches their 10th year as an official team, they consistently represent the school with great pride.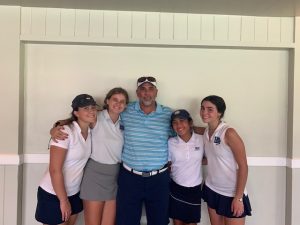 During the 1990s, students participated in a golf club coached by the PE teacher, Mrs. Jenny Cerda. That was until the club was taken over for the 2011-2012 season by Coach Ignacio Vazquez who transformed it into a successful team. 
"It's a great experience to try a new sport which was the whole reason I began playing. I have really enjoyed being a part of the team for the past few years," junior Mia Prado said.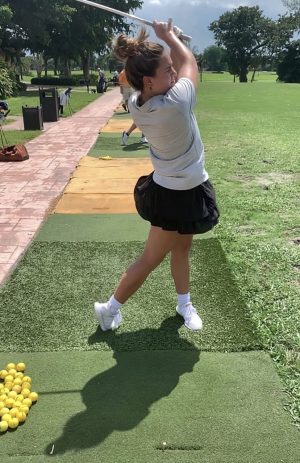 Today, the team works hard to be victorious, practicing 3 times a week at Miccosukee Golf and Country Club. Lately, their practices get interrupted by the stormy weather. 
"Rain is probably the biggest hurdle we have as a team," Coach Vazquez said.
Nevertheless, Coach Vazquez assures that they receive as much experience on the course as possible, learning all facets of the game. 
 "Golf is a great sport and thankfully we have an amazing coach who helps us become better everyday," Prado said.
To be on the team, one has to try out and have general knowledge of the sport in order for Coach Vazquez to elevate their abilities and transform them into strong players. Currently, 9 girls make up the team, most of which are freshmen. 
"Some of the freshmen are demonstrating lots of talent and potential, if they continue to practice this year they will improve significantly," Coach Vazquez said.
One of the team members exhibiting how passion and practice can lead to success is freshman Megan Bermejo, who has been playing golf for years.
"Golf is my passion. I've been doing it since I was 6 years old and the feeling of playing thrills me. Nothing pleases me more," Bermejo said.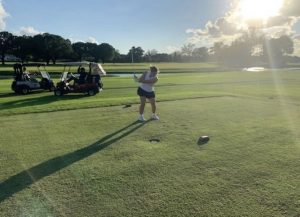 This past week, Bermejo received the Medalist Honor at the Girls' Catholic Quad Match in Grand Palms.
"This past week has been awesome," Bermejo said. "The experience was thrilling and exciting. The competition was tough but I hung in there and enjoyed every second of it. I worked hard to get where I am today."  
The golf team has earned numerous accomplishments as a team, such as winning the youth fair invitational and the regional match. Two golfers have reached the state championship in the past. Unfortunately, last season was interrupted by the pandemic, which is why they work hard to obtain an impactful comeback to make up for it.
"In the end, golf is not just a sport, but it teaches me life lessons that I will continue to carry for the rest of my life," Bermejo said.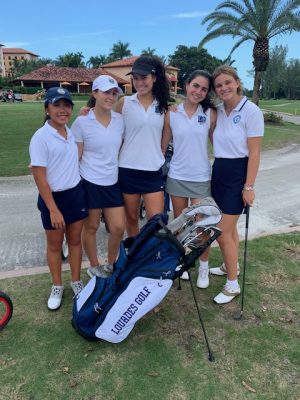 As the end of this year's season is impending, the team strives to win districts during the third week of October, then regionals the week after, and finally— the greatest achievement of all— the state championship which takes place the first week of  November.
"I am extremely proud of these girls and am fully confident that they will prosper. They work hard and are an excellent team, full of passion and perseverance" Coach Vazquez said.
About the Contributor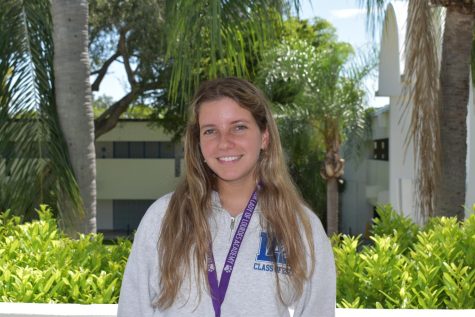 Isabella Nunez, Editor in Chief- Design
Editor in Chief-Bella Nuñez is now a senior. This is her third and final year being apart of the Grotto Staff. During her time at Lourdes, Nuñez has...