Return to Running
JV Cross Country Overcomes Last Year's Challenges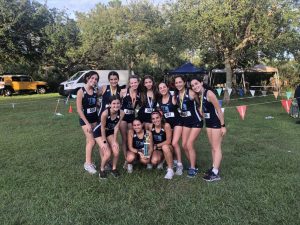 After a season full of challenges and complications due to Covid-19 last year, this year's cross country team came back stronger than ever winning the district championship Thursday, October 28.
Districts was held at Larry and Penny Thompson Park. Junior Olivia Fraga came in first place and seniors Sofi Martinez, Johanna Diez and freshman Olivia Rodriguez followed in the top ten. It was a great step in a season of rebuilding.
August 16, 2021 marked the beginning of a new season for both the JV and Varsity cross country teams. The girls were excited to be back to their training, especially after many complications and limitations put on them due to Covid-19 last year.
"I feel that I had a better experience this season than last," sophomore Guadalupe Solorzano said.
The girls were able to practice with a smaller team, because there was no practice team like there was last year, which meant more individual training and harder workouts. In addition, the team was able to participate in more races in and out of town.
"I raced best at the Larry and Penny races because the course was good and familiar," Solorzano said.
These practices and races made the girls improve a lot and push themselves to their full potential.
"My time improved by two minutes just in one season," said sophomore Ines Saudino, who enjoyed her first year on the team.
With the more intense training and more experiences gained this season, the girls aspired to get better than last year. The mileage the team ran every day significantly increased this year, going from 3 to 5 miles, and harder, more repetitive workouts. All of this, just to better their past times and continue to improve.
"I think I ran best at states last year, and I wanted to beat my time from that race," varsity member sophomore Andrea Comas said.
The team hopes to qualify to return to States this year, and with the way their season has been going, they are not far from it.
The varsity team not only raced at Districts, but won first place, led by junior Olivia Fraga. "I was nervous but excited to race and do well," Comas said.
This intense and challenging season is over for the junior varsity runners until next year, but the fight to win a state title continues for the varsity girls. The State championship will be held on November 12 in Tallahassee.
The girls are very proud of where they have come this season, and are grateful to have had such a powerful return to running.
About the Contributor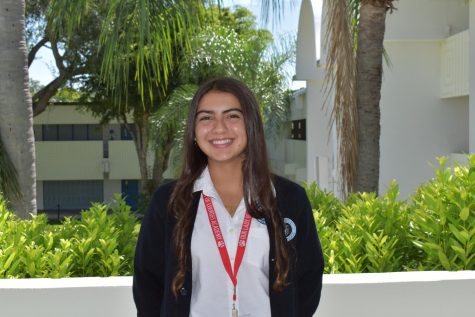 Alexa Sabogal, Staff Writer
Alexa Sabogal is a current junior. After taking Journalism 1 she found her love for writing and creating podcasts about what students are up to. She is...