Bobcats bring victory
JV Volleyball Team has successful season once again
School spirit for school sports begins with volleyball.This year the JV volleyball team has triumphed with a successful season.
This year the JV Volleyball Team is at an all-time high with their wins. Coming back from Covid, has been hard on many school campuses and teams, but not for the volleyball team, they strived and worked hard to get back to the top again. This summer, the girls trained long and hard hours to get ready for their season.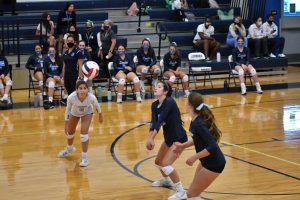 "In the summer we trained a lot by working out and doing fun volleyball things. I loved it because we got closer and we were training hard but at the same time we were having fun." sophomore Abigail Schwartz, JV right side hitter, said.
Since the girls worked hard in the summer, the team is experiencing a great season thanks to the unity and the bond they created. Winning 11 games throughout the season, the girls realized that their hard work paid off.
"This season so far has been great, I love that we all got really close this summer and that we were able to click immediately as friends and supporters of each other." sophomore Emma Lizama, outside hitter, said.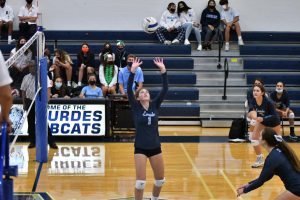 Many players on the team have worked hard this year to step up their position on the team and some are even excited about going to varsity next year.
" For someone that wants to go from JV to Varsity there are a lot of expectations like working harder for yourself and for your team, being what your team needs and not what you want to be and the most important one is being a leader and motivating your other teammates". sophomore Carolina Peñate, right side hitter, said.
At school, the teachers and other students are extremely supportive and show their school spirit by going to games and cheering on.
"I love going to the volleyball games because I have this thought of community," Deacon Louis Phang Sang said. "Usually in a volleyball game, at least three people touch the ball and when the ball comes over the three girls need to work together to get it over the net so there is this unity between them. I believe we should always support what the young girls are doing, especially when it is teaching them what it means to work as a team."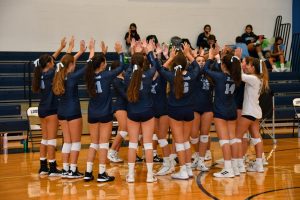 The coaches of the JV team have been a big part of this successful season because of their motivation and patience with the girls. As they monitor each and every player their job is to see who can step up and become part of the varsity team.
"The percentage of girls that move from JV to Varsity is from 10% to 50% but it varies every year. This year our goals and expectations for the team are to win every game and develop the girls for varsity," JV volleyball assistant coach Ariana Alfonso said.
The girls on the team dedicate most of their time to work hard for their games. They stay late after school, practice early on the weekends and even miss school hours to be on time for games. Keeping good grades and staying 100% committed to the team can sometimes be too much.
"Volleyball does interfere a lot with my studies because we have practices everyday for 2 hours right after school and by the time we get home it's already late. The days that we have games, it's even worse and more frustrating because we finish even late,." Schwartz said.
Even though the girls have a hard time with their schedule. They get a lot of support and help from their teachers which helps them a lot. The teachers at school understand the commitment and the love that these girls have for their team.
]As the girls finished their season, their last game was the most important, as a team they waited for that day to come because they knew that they were ready. The coaches and the girls are prepared for next year and they have worked hard to get to where they are. Many student fans are happy and proud of the success the girls had throughout the season.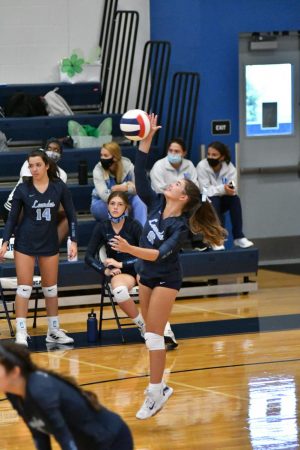 "We had many great wins throughout the season and we gave it our all until the game. Even in the last game we were definitely ready to win and it was just this feeling of ' we made it, we are finally here' and that was just the best feeling in the world. Overall I'm excited to see what the future looks like for us and growing volleyball players." Penate said.
About the Contributor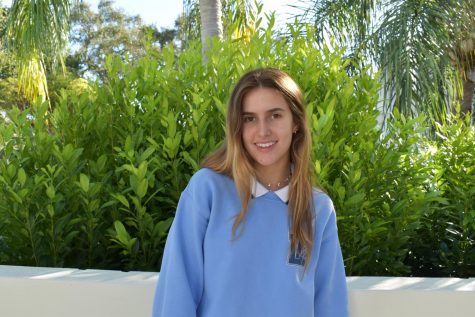 Julietta Montes, Staff Writer
Julietta Montes is a sophomore and this is her first year being a part of the grotto staff. She loves to participate in school activities and is in many...