Junior Olivia Fraga Is Fresh to the Finish Line
A New Cross-Country Member's Rise to Racing
Racing to the finish line, junior Olivia Fraga quickly rose to the top of her game in the fall 2021 cross-country season.
Fraga is very excited to have placed sixth overall out of hundreds of female cross-country runners at the 3A State Championships on November12, which is no easy feat, especially for her first year of running cross-country in high school.
"I am really happy to have placed in the top ten, it took a lot to get this far, and I could not have done it without all my teammates," Fraga said.
Coach Javier Jove, the cross-country and track and field coach, is also thrilled about Fraga placing in the top ten during states.
"I am so proud of her for placing 6th," Coach Jove said. "She truly put in a lot of effort this season, and it paid off in the end."
Reaching states in her first year of cross-country was a rigorous challenge for Fraga due to the fact that she played volleyball and ran short distances for track in her first two years of high school rather than starting with cross-country from the beginning. Luckily, she ventured into running long distances, and she is very grateful that she did.
"I have no regrets. If I would not have done cross country, I would not have met all the girls on the team, and now we are all super close," Fraga said.
Fraga's teammates are very supportive of her success. In fact, it was due to her love for her track team and coach that convinced her to first join cross-country.
"I ran track and field in freshman and sophomore year, and my coach inspired me to start running longer distances," Fraga said. "My coach and track team are the main reason I decided to run cross-country."
Coach Jove first got the idea for Fraga to run longer distances during last year's track season.
"I noticed that when she was running 400s and 800s, she was doing much better at longer distances than short, so I thought it would be good for her to try cross-county," Coach Jove said. "It turned out that she was a natural."
Fraga first grew to love running longer distances after running during Hell Week, a week-long boot camp on the states course in Tallahassee that the top runners attend, where she became friends with the cross-country team and decided that cross-country was meant for her due to the support she received.
"
"The motivation from my team and my coach made me want to start running cross-country. They allowed me to be confident and push myself to run my fastest every race." "
— Olivia Fraga
Fraga really enjoys being a part of the team and finds many rewards to running cross-country. While it may not always be easy, she is still glad that she joined the team.
"It is challenging but rewarding to be a part of a group that supports you and pushes you to do better," Fraga said. "It is extremely difficult, but I find cross country to be a way to release all my stress with my school work and responsibilities."
Fraga already accomplished a lot in a short amount of time on the team and proved her resilience by finishing every race, even after being kicked in the face by a fellow teammate before one race.
She practiced constantly at Tropical Park every Monday through Saturday, which paid off. She is glad that she dropped more than 2 minutes off her 5K mileage time since the beginning of the season. Also, she is very excited about being named Runner of the Week, which is a competition where people vote for one of the top runners this season.
"It was so cool to win Runner of the Week because I did not expect my year to start off like this," Fraga said. "It was a huge accomplishment for me."
On top of all these achievements, Fraga feels that these are not even her biggest accomplishments. Her Spanish River race was the point where she truly felt that she accomplished the most in the entire cross-country season.
"It was my first race that I ever won, and I was able to win with the help of my coach and my teammates," said Fraga. "It all went uphill from there, so that is why I believe that is my best accomplishment."
Despite all of these accomplishments, Fraga's favorite part of running is not the races, but the memories she made with her teammates.
"My favorite memory is the huddles right before each race because we always do a special prayer, and some of us give small words of encouragement before the race," Fraga said.
As much as Fraga's teammates have improved her cross-country experience, she also impacted her teammates' season experiences.

"

"Fraga is an inspiration to the rest of her team, not only because of her impressive performance, but also because of her amazing sportsmanship.""
— Junior Eva Matute
Each member of the cross-country team is always there to support each other and each other's goals. Fraga is grateful for all their help and is using all their motivation from the season to help her continue reaching her goals.
"My goal is to run sub or blow 18 minutes for the 5K, and I believe that with everything my team has taught me, I will be able to reach this," Fraga said. "I just have to eat better and train every day to reach my goal."
The most important part of improving is practicing, and Coach Jove makes sure to encourage Fraga to go to all the practices so that she can eventually accomplish her goals.
"As long as she keeps practicing the running skills that she learned and building up her strength, she should be able to decrease her time for the 5K by next year," Coach Jove said.
With all the training that she will be doing to reach these new goals, Fraga is planning to continue running cross-country in her senior year. According to flrunners.com, Fraga is already the second fastest female junior in the state with a time of 18:39 for her 5K, so she feels that she will do even better in her senior year.
"I have to run next year because now I have to finish what I started, and I have to reach my goals before I leave high school," Fraga said.
About the Contributor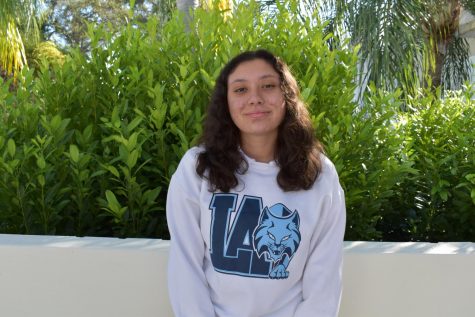 Jennifer Hoover, Staff Writer
Jennifer Hoover is currently a junior at the school. She is a Bernadette, and she is part of many clubs and National Honors societies at school. One of...