Junior Takes a Baking Hobby to the Next Level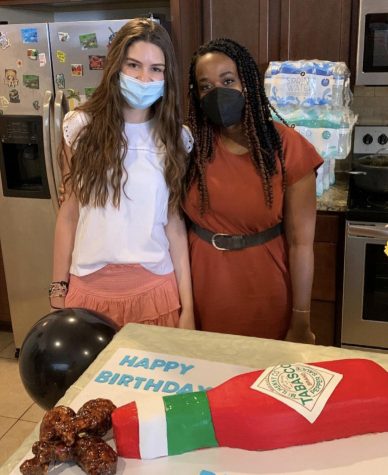 After having an amazing time at a summer sleep away camp in seventh grade, junior Claudia Portocarrero was eager to go back the next year. The only dilemma was that this time she would have to pay for it herself. There began Confections by Claudia.
Portocarrero has always loved to bake. Some of her fondest childhood memories consist of afternoons in the kitchen where she would prepare a variety of sweets with her grandma. So when she was faced with the challenge of raising $3,000 dollars on her own, making baking a business seemed like the obvious choice.
"I was already considered the family baker," Portocarrero said. "I baked cakes for my aunts, uncles, grandparents, and even friends. It made sense to make this hobby a way to earn money."
Confections by Claudia, as the business is called, was successful in its first year. Portocarrero was able to raise enough money to go to camp which encouraged her to expand the business further. She started an instagram account and started to receive orders not only from family and friends but big companies as well.
"One time I took an order from Lululemon of one hundred cookies for their store opening," Portocarrero said. "They ended up being super cool, and Lululemon even commented on my post."
Although her business has grown immensely and seen great success, Portocarrero has struggled balancing all the baking with her school and extracurricular activities. A high schooler's time is already limited, so having a business on the side is not an easy undertaking. Portocarrero is grateful for her family that is always there to help her when she takes on too much.
"Another time I took an order for one hundred individually packed cupcakes for a birthday drive by," she said. "I remember sitting there at my dining room table with my mom and grandma for hours frosting cupcakes and packaging them. I couldn't have done it without them."
Despite the stress baking may occasionally cause, Portocarrero holds a special place in her heart for certain goods that have allowed her creativity to flourish.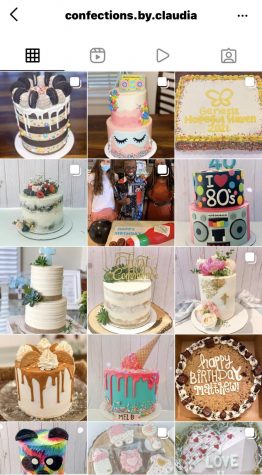 "My favorite things to bake are cakes because they are kind of like a blank canvas," Portocarrero said. "Once you stack and frost a cake you can really do whatever you want with it."
This love of cakes found its way into Portocarrero's life outside of her business. A few years ago she began baking cakes for an organization called Genesis Hopeful Haven that houses foster kids that have aged out of the system. She made a birthday cake for each of these kids.
"I try to go above and beyond with the cakes because it's a really special experience getting to see them so happy," she said.
Portocarrero was so inspired that she began using baking not only lucratively but as a way of doing community service as well. Today, alongside partner junior Rowan Griese, she has created the G.I.F.T of You, a service organization aimed at celebrating the birthdays of kids currently in the foster care system.
"The GIFT of You began with Claudia baking cakes for the kids," Griese said. "But when she partnered with me we decided to take it further by celebrating whole birthday parties."
The organization is hosting their first birthday party on November 20th. They will be celebrating the birthdays of twelve foster children and each will receive a mini cake from Portocarrero.
"I'm so proud of Claudia for wanting to use something she is good at for a cause that is so important to her," mother Carolina Portocarrero said.
Confections by Claudia and The GIFT of You have allowed Portocarrero to take her love for baking and share it with the world. She can't imagine life without it.
"I love that I get to bake so much, even though my family hates the constant mess in our kitchen," Portocarrero said. "But I don't care, baking has been like my therapy."