Sport's Superhero
November 30, 2021
Some teachers have unconventional classrooms. Broken bones, sprained ankles, and muscle injuries, Ms. Belinda Rodriguez takes care of it all.
Ms. Belinda Rodriguez has one of the most important roles in the school, she keeps everybody healthy and in good shape to participate in their sports.
"As sports get more intense and more kids play year round sports, there tends to be injuries, so Belinda is important not only to treat the injuries as they happen, but to rehab some of the girls after their injuries," Athletic Director Maura Herrholz said.
Throughout her years at the school, Ms. Rodriguez has rehabbed many girls back to health and normality, while taking care of every athlete's needs.
"
"I think what is so special about the way Belinda cares for her athletes is how she takes time to set up a recovery plan for each individual girl and she really gives all she has to help you in every way she can."
— junior Sofia Quintana
"In my case, she had me do exercises that would strengthen me and get me back to cheer as soon as possible, while being really patient and motivating me," Quintana said.
Ms. Rodriguez's positive attitude and love for her career truly shows through her work and her teaching of the Sports Medicine program. She inspires her students to become better everyday, according to senior Gabriella Pozo.
"I love working with her because she's extremely knowledgeable, very dedicated, and truly loves what she does," Mrs. Herrholz said. "I trust her completely even with my own daughter."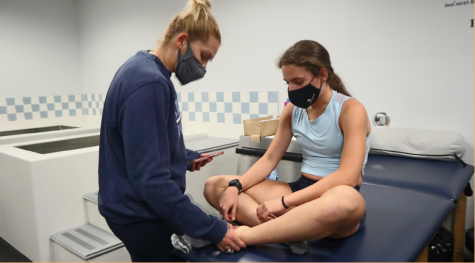 Through the Sports Med program, Ms. Rodriguez helps educate the future generations of surgeons, athletic trainers, and med students.
"My favorite part about teaching the Sports Med program is how interested the girls are in the medical field aspect and I love mixing it up with sports because it makes it more fun," Ms. Rodriguez said.
Being an athletic trainer has many fun and exciting aspects however there are many who rather work in a hospital than a high school. However, Ms. Belinda Rodriguez said she prefers to work at school because of the connection she gets to share with her athletes.
"My favorite part of the job is the special connection and bond I have with the girls," Ms.Rodriguez said. "Seeing them come back from every injury, knowing that I have their life on my hands is the most rewarding thing you can have."
Many are interested in following Ms. Rodriguez's path and becoming an athletic trainer.
"In my opinion it is truly an amazing career, but you have to do it because you love it and for the passion of it," Ms. Rodriguez said.
However it is a hard career to study. Ms. Rodriguez has a bachelor's degree in exercise science, a minor in kinesiology, and a masters in sports medicine, specializing in athletics training.
"I know it is a hard career to follow so remember to focus and trust the process instead of wanting to be an athletic trainer right now and enjoy the journey," Ms.Rodriguez said.