College Professor's New Found Love for Educating the New Generation 
How do you go from teaching adults all your life to educating curious teenagers in a high school setting?
This school year, the OLLA community gained a new member in the science department.
Mr. Miguel Ortero-Rambla is the new chemistry teacher for honors and some non-honors classes. 
Even after having taught about the technology in the sugar industry in Cuba, moving to Spain, and coming to America to teach, he has never experienced something like teaching in a high school classroom before. Mr. Ortero-Rambla moved to America nine years ago and started working at Miami Dade Community College as a chemistry teacher. 
Before teaching at the school, the only experience he had with teaching high school was the occasional tutoring he would provide for high school students. 
"I decided to teach here because Sister Marie Anne contacted me by email and offered me a full time job, I couldn't say no," Mr. Ortero-Rambla said. 
In the 4 months that he has been teaching at the school, he found that he prefers teaching high school students over the college students. 
"I prefer high school," Mr. Ortero-Rambla said, "I work directly in the formation of the professionals tomorrow."
He thinks that since college students are adults, the responsibility here is higher because students have "fresh minds" that need to be formed. 
His love for teaching chemistry, and high school chemistry in particular, has really reflected onto his students in the classroom. 
"He has expanded my knowledge and allowed me to understand in depth about the branches of science," sophomore Michelle Mayol said. 
Chemistry is known to be a very challenging class in the lives of most sophomore students, but Mr. Ortero-Rambla has somewhat changed this perception his students had. 
"I think Mr. Ortero is a great teacher with a lot of knowledge. He forms a stress free environment and is always willing to share extra information to help us out with a lesson," sophomore Luciana Picasso said, "A bonus is he makes us laugh with his jokes!" 
The impact that the new teacher has on his students goes beyond the classroom.
"Mr. Ortero will always say 'hi' in the hallway and is always positive when we walk into class," sophomore Ines Saudino said, "He makes his class, and school in general more enjoyable."
About the Contributor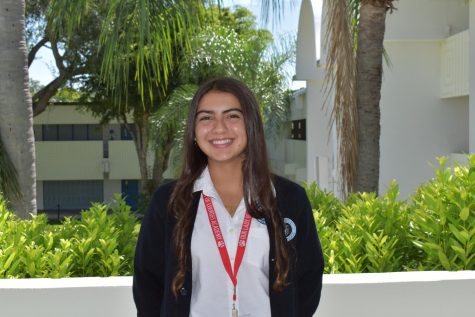 Alexa Sabogal, Managing Editor
Alexa Sabogal is a current senior and it is her third year on staff. After taking Journalism 1 she found her love for writing and creating podcasts about...