The Best of Both Worlds 
Ms. Mellini combines Science and Cheerleading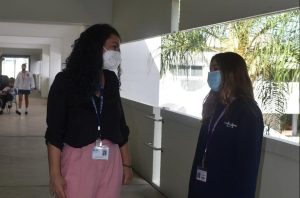 Whoever said you could only be one thing or the other, has not met Ms. Natasha Mellini. By day she is a biology teacher, by night she is a cheerleading coach. 
It is not uncommon knowledge that being a coach for the JV cheerleading team and a teacher for the freshman, juniors, and seniors is a hard undertaking and that they are two completely opposite things. 
"Even though my two jobs are very random, I got asked by Vikki to be an assistant coach for the JV cheerleading team because of my gymnastics background and high school cheerleading experience," Ms. Mellini said. "As for being a teacher, I actually wanted to be a doctor when I was little, then I realized how competitive that field is, while over here everyone is trying to help each other, rather than trying to do better or compete with you, so I decided to become a biology and environmental science honors teacher instead." 
Being a new teacher has its many challenges, like building strong relationships with the students and getting to know the other teachers. 
"I just wish other teachers knew how much I care and believe in our education system," Ms. Mellini said. "I also wish that my students knew that I genuinely care about them and that I always have their best interests at heart." 
Even though Ms. Mellini is new to the school this year, she has already made an impact on her students.
"Ms. Mellini is one of the most patient and caring teachers I know," freshman Juliette Romero said. "I've never had a teacher like her, that is easy to talk to and understanding." 
Being a teacher is considered one of the most important yet, underestimated jobs in society. Teachers are in charge of the future by educating the minds of tomorrow's leaders. 
"I love that I get the opportunity to teach the girls about biology, but I would say that anyone can teach about biology," Ms. Mellini said. "At the end of the day being a teacher is more about forming their personality and making sure they become strong and independent women." 
Ms. Mellini's other personality is outside the classroom, motivating her cheerleaders and preparing them for competition. 
"I think what makes Ms. Mellini is such a special coach are her motivating words, her faith in us, how easy it is to relate to her, since she is so young, and also how resilient she is in helping us succeed no matter the ups and downs we go through as a team," junior Sofia Quintana said. 
According to freshman Natalie Saumell, not only does she use her gymnastics skills to help her cheerleaders improve their tumbling, she also helps make each member of the team more responsible and she makes each cheerleader's voice heard.
"Ms. Mellini brings so many new things to the team that weren't there last year, like a sense of communication, she is present and there at every single one of our practices, she is positive and you will never see her without a smile, and finally the team has a stronger bond with her there," Quintana said. 
Ms. Mellini changes lives inside her classroom and on the cheerleading floor because of her work ethic and friendly attitude towards others. It is only her first year at the school and she is already bettering and inspiring the lives of many.
"I have Ms. Mellini as a teacher and as a cheerleading coach and all I can say is that she is loved because of her constant support of her students and cheerleaders, her motivation, and her understanding," junior Isabella Acevedo said. "She brings the best attitude towards everything she does and I think there is a lot to learn from her as a teacher and as a coach."
About the Contributor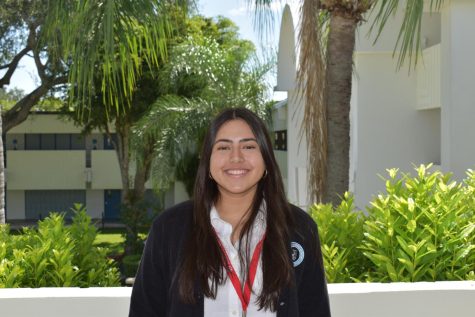 Isabella Baquerizo , Staff Writer
Isabella Baquerizo is currently a junior. As a sophomore she discovered her love for writing and journalism through Journalism I: News Writing & Reporting...