Madame Florence Floris: Belgian Lawyer Finds Her Way To Teaching High School French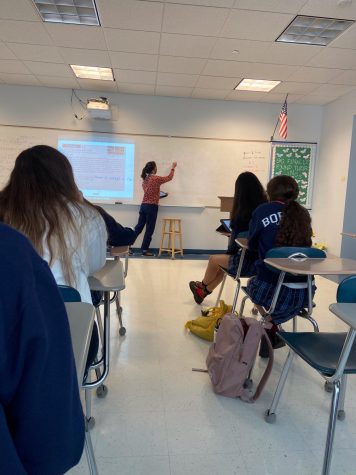 "Apprendre une nouvelle langue, c'est avoir une fenêtre de plus par laquelle contempler le monde." – Chinese Proverbs
This quote, meaning that learning a new language is having one more window through which to contemplate and discover the world, is what Madame Florence Floris lives by when teaching her French classes here at the school. 
Having graduated from l'Université Catholique de Louvain and l'Alliance Française Paris île-de-France in Europe, and receiving her Master degree from Temple University Beasley School of Law in Pennsylvania, Madame Floris started off her work career as a lawyer in Europe, and then here in America. 
Over the 20 years that she has lived in the United States, Madame Floris has found her way to teaching French. She started with educating preschoolers, and worked her way up to teaching high school and adults. 
"I like high school and adults," Madame Floris said, "We can interact more and we can have deeper and more meaningful conversations about the language itself and about the culture."
The French teacher's real mission in teaching is to educate her students about French culture. She loves literature, history, and art, and hasn't found a better way to teach about these, than through the French language. 
"I like to share about French culture through the language," Madame Floris said.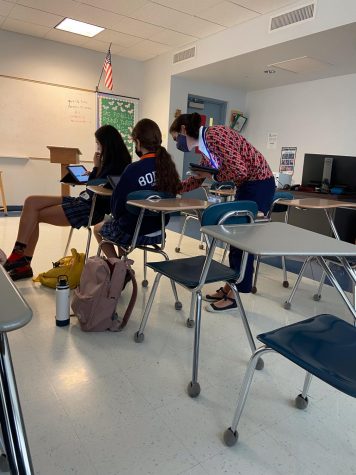 She has really demonstrated her love for the culture to her students. 
"I can tell that Madame is educated and passionate about her culture," sophomore Isabella Baquerizo said, "Thanks to her, I have a much better understanding of France, which is really the reason I joined the class." 
"She has taught me to look at the world in a different way," sophomore Sophia Gonzalez-Abreu said. 
In the end, if Madame Floris had to choose one thing to leave her students with by the time they leave her class, it would be a love for the French language.