Cheerleaders Head to Nationals
There is so much more to the school's cheerleaders than just the cheerful faces and loud voices we see and hear supporting our basketball teams at their games. Aside from the sideline cheer that the team provides for both our school and Christopher Columbus High School teams, the cheerleaders also compete in various competitions, with the hope of making it to Nationals.
On February 11-13, 2022, both the junior varsity and varsity cheerleading teams will take on UCA Nationals. Both teams have competed their routines throughout the year, and after a successful submission for their regionals competition, earned themselves a spot in this year's National High School Cheerleading competition. However, this accomplishment did not come easy to any member of the team.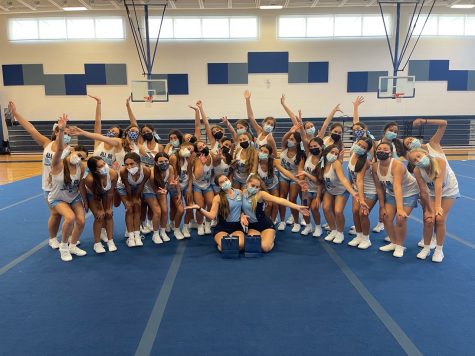 "Throughout the season our team has faced many challenges, whether it was people getting quarantined or injuries occurring in and out of practice," sophomore Alyssa Diaz said, "However with each other's support and teamwork we were able to overcome these challenges every day." 
Due to the sport's team structured nature with group stunts and cheers, having everyone present at practice is essential.
"Cheerleading is a true team sport in that it requires all of the athletes on the team," cheerleading coach Ms. Victoria Goudie said, " When a girl gets quarantined or put on injury protocol, it's tough to have to deal with subbing kids in and switching kids around."
The team often had to modify their practices and limit what they did each day because of these challenges. 
"One of the hardest things from this season was that anytime someone was out with COVID or hurt, a whole stunt group couldn't practice," junior Sofia Quintana said, " We sometimes can't even practice whole sections of the routine because of the amount of people missing that day." 
Despite all these challenges, the team has been able to pull through. 
"Every time that we had a tough moment missing kids, our girls stepped in and took on the challenge," Coach Goudie said, "Whether it was learning a new position or skill, we were able to bounce back from any obstacle every time."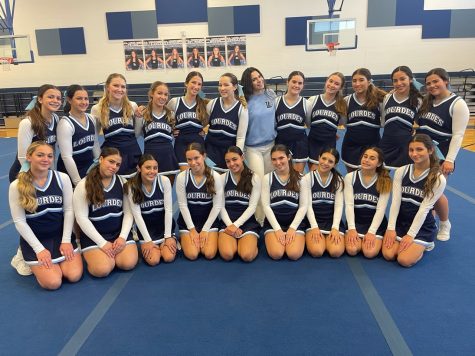 The cheerleaders are now in the final weeks before returning to Nationals, where they competed last year. In 2021, Varsity placed fourth in their division, and JV placed second in theirs. This year, the girls hope to win the title of National champions. 
"This is my first nationals as a Lourdes cheerleader and I am so excited to be sharing this experience with my teammates," freshman Francesca Loureda said. 
Win or lose, the cheerleaders are extremely proud of their accomplishments so far and are looking forward to showcasing their hard work at Nationals. 
"We get to celebrate all that we have accomplished, overcoming obstacles and finally getting to the biggest stage in High School cheerleading," Coach Goudie said.
About the Contributors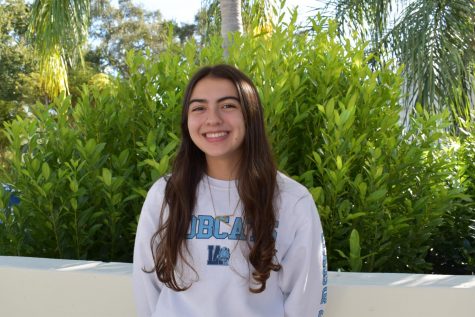 Alexa Sabogal , Staff Writer
Alexa Sabogal is a sophomore and this is her first year taking journalism at school. She has always loved to write and talk to interesting people. She...
Danielle Noriega, OLLA OutLoud Host
Danielle Noriega is a junior at OLLA. This will be her second year on the Grotto News staff. She is a part of many clubs and activities at the school....