Visits with Jesus: Finding Your Peace and Purpose
Visits with Jesus, prayerful experience sessions spearheaded by the Peace and Purpose Project and Campus Ministry, has made its way to OLLA as we start off the new year.
Rooted in granting students the opportunity to expand their prayer lives, Visits with Jesus is hosted Monday through Wednesday in the Chapel from 7:10am to 7:25am. 
"I most look forward to continuing my faith journey and growing alongside my peers," senior Amanda Charbonneau. 
The initiative took inspiration from Campus Ministry's retreats, where students are exposed to an environment where they can not only obtain a genuine connection with the Lord but a sense of community like no other.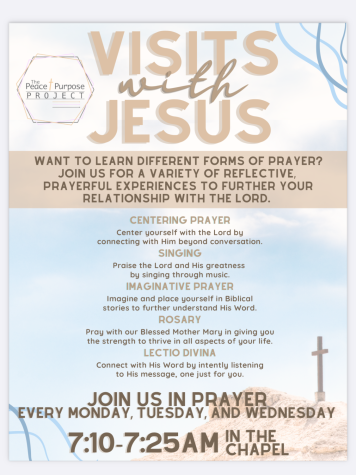 All students are welcomed to join and learn about the diverse range of prayer experiences they are invited to partake in; including Centering Prayer, Singing, Imaginative Prayer, The Rosary, and Lectio Divina. 
"Back in August, Ms. Muir approached me and a couple of other girls and told us about a new initiative she wanted to start where we could offer different prayer experiences in the chapel," senior Mariana Brime said. "I'm honored that I can help my community with something that is so important to me and so many others." 
Visits with Jesus presents the tools necessary through reflective calls to action and peer-crafted sessions for students to make inner-realizations about not only their prayer lives but themselves as well. 
 "It's been really refreshing to get to start my morning with a new type of prayer and to see how this has been helping other people as well, " Brime said. 
Small but mighty, Visits with Jesus hopes to continuously inspire their audience members and those beyond the school walls. 
"For me, I think there is a beauty in the community you can build with your peers through prayer and I believe that Visits with Jesus builds just that: community," senior Stephania Lopez said. "The impact is not solely on those listening in the sessions, it goes beyond that. It is in this impact that we can share the vastness of the lifeline that is our faith."
Exposing young women to become future leaders who are willing to listen to themselves and others, the initiative plants a seed that will hopefully inspire many. 
The Peace and Purpose Project invites all students to join them in Visits with Jesus every Monday to Wednesday in the Chapel from 7:10-7:25 am. 
About the Contributors
Elisa Ramirez, Assignment Editor
Elisa Ramirez is a current senior. She joined the Grotto News due to her passion for taking pictures and writing creative stories that showcase her love...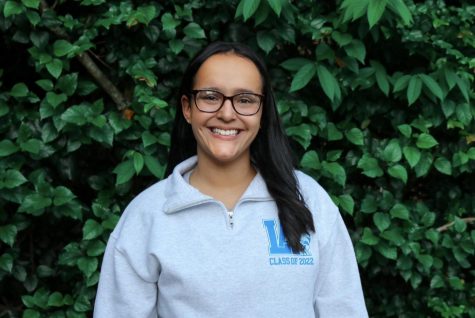 Stephania Lopez, Web Editor
Stephania Lopez was on the Grotto News staff from 2019 t0 2022. She was the creative director of the 2021-2022 publication of the renowned literary art...