"Et tu, Brute?" 
The Fine Arts Department brings Shakespeare's Julius Caesar to the stage.
"Et tu, Brute?" 
Julius Caesar is coming to Lourdes. The Fine Arts Department has been working on the production for weeks, and can't wait for its debut. Opening night is February 11 at 7:00pm, and the matinee will be on February 12 at 2:00pm.
The Tragedy of Julius Caesar penned by William Shakespeare and was first performed in 1599. This history and tragedy production became Shakespeare's most successful play, and it tells the story of Roman dictator Julius Caesar's assassination.
""The experience thus far has been enjoyable. I have not acted in many years and though forgetful of what I had previously learned, everyone was helpful in teaching me. I am beyond excited to see the final production, as I know everyone has been working countless weeks to bring this play to life," said junior Amanda Rodriguez.
Senior Valeria Durand plays Calphurnia, Caesar's wife.
"I honestly really liked getting to express my emotions through my role. Calphurnia is a character who can be played in a ton of different ways, and I enjoyed trying out different emotions for her to see what fit," Durand said. 
After all their hard work, the cast could not be more excited to finally perform this weekend. Of course, none of this would have been possible without their director, the school's very own Ms. Minnie Poole.
"I'm really happy to be working on a Shakespeare play for the first time in six years, and I'm glad that the senior class will have the opportunity to experience one live show before they graduate," said Ms. Poole.
Along with the talented cast and director, the stage crew has been working just as hard to make the production as great as possible. 
"Julius Caesar has not been an easy show to analyze, but it has been a fun one," said senior Gaby Toyos, stage manager of Julius Caesar. "From meeting all the new and dedicated freshmen to creating last minute memories with the seniors. I am happy to have participated in this show, but also saddened that it is my last. I'm glad to call Lourdes the place where I have found my passion."
Come out and support Bobcats by buying tickets ($15 each) using this link
Remember, play attendance by students counts for spirit points!
About the Contributor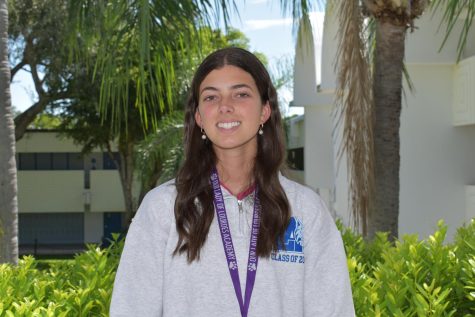 Paola Lista, Editor in Chief- Editorial
Paola Lista is a senior and is the student body president. This is her third year on The Grotto staff, and as the creator & host of OLLA Out Loud....