'Golden Girl' Chloe Kim holds on to halfpipe title
Since February 4, the 2022 Winter Olympics has captivated the world. From ice hockey to ice skating, Beijing is hosting 109 medal events and over 2,000 athletes; One of them being America's halfpipe snowboard sensation Chloe Kim. The 21-year-old placed first for the qualifying events, and retained her lead after the final runs. As of this past Wednesday, she is the first woman in history to win back-to-back gold medals in the snowboard halfpipe. "I'm just going to feel all the feelings and just be proud of myself," she said. 
The snowboard halfpipe event is judged out of 3 runs by each competitor; The highest score wins. On her second run, Kim wasn't able to land an attempted 1260 turn, and fell again on her third run. But it didn't matter. Her setbacks were nowhere near as great as the success of her first run, which earned her a score of 94.00. No other competitors could catch up. Second place went to Spain's Queralt Castellet, who earned a score of 90.25, a full 4.25 points short of Team USA. "Just being so grateful to be out here and represent the U.S. I'm just so honored to be here and just enjoying the moment," said Kim. 
From an early age, she had made a name for herself in the snowboarding world. Kim started snowboarding at age 4 and started competing by age 6. She has earned 6 X Games gold medals and 2 World Championship gold medals. By age 13, she was working with the U.S. national team. Her influence eventually became known across the globe and she gained major recognition by winning her first Olympic gold medal at age 17 during the 2018 Winter Olympics. At this event, Kim landed back-to-back 1080s – 3 full rotations in the air – and was the first woman to do so. This feat made her the youngest gold medalist in snowboarding history. 
Chloe Kim's 2018 gold medal run: https://youtu.be/3opTwpiCZ6c
Chloe Kim's 2022 gold medal run:
About the Contributor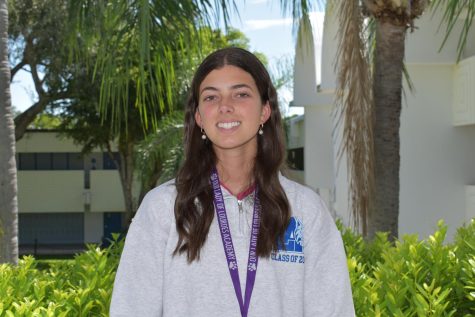 Paola Lista, Editor in Chief- Editorial
Paola Lista is a senior and is the student body president. This is her third year on The Grotto staff, and as the creator & host of OLLA Out Loud....