Main Artists Video-In to the VMAs
A notable night with many headliners out on tour.
The MTV Video Music Awards celebrates the most prominent music videos of the year and the celebrities that create them. However, many nominated artists were on tour this year, and therefore unable to attend.
On Sunday, August 28, the 2022 VMAs took place in New Jersey's Prudential Center, and was hosted by Jack Harlow, Nicki Minaj, and LL Cool J. The show opened with Fergie making an appearance during Harlow's 'First Class', the Song of the Summer, which models her own song, 'Glamorous'.
"I think it was unexpected and very iconic of them. The collab was just as perfect as their performance, and I personally believe it was definitely one of the highlights of the night," senior Sarah Sagrott said.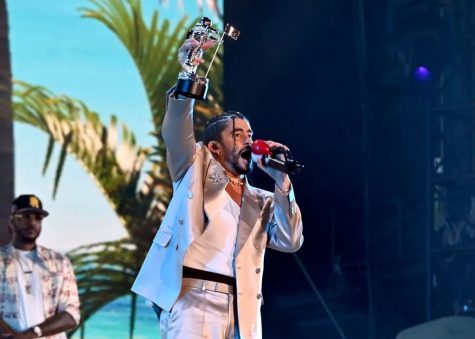 Bad Bunny made history at the VMAs, becoming the first predominantly Spanish-speaking singer to be named Artist of the Year. Though he could not attend the ceremony, he performed 'Titi Me Preguntó' at his sold-out concert in Yankee Stadium. 
"I am a huge Bad Bunny fan and am so happy he won Artist of the Year. Him being the first hispanic artist to win is super exciting and I think he really deserved it," freshman Camila Molero said. 
Next, the Album of the Year was awarded to Harry Styles. 'Harry's House', was released on May 20th this past year, and debuted at No.1 on the Billboard 200. This record breaking album reached over half a million listeners within the first week and its top song 'As It Was', remained at No. 1 on Billboard Hot 100 for 11 weeks. Like Bad Bunny, he was unable to accept his award in person since he was performing at his concert in Madison Square Garden. However, he was able to video conference in before his show and virtually received the reward. 
Ironically, K-pop group BTS won the Best Group Award, after having broken up a few months ago. The band announced on June 14th that they are taking time apart in order to explore their careers as solo artists. Unfortunately for their fandom, there was no BTS reunion at the show, despite being the most nominated group. Following this award, Billie Eilish won Best Song for 'Happier Than Ever'. She is currently touring in Asia and was therefore unable to attend the VMAs. 
The award show ended with Taylor Swift winning Video of the Year for 'All Too Well (10 Minute Version) (10 Minute Version)', which featured actors Dylan O'Brien and Sadie Sink. Swift, who is notorious for hiding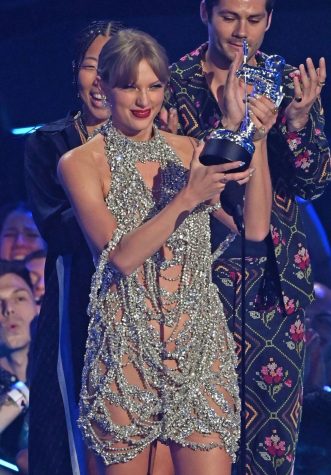 Easter eggs in her work, shocked her fans by wearing a crystalline dress, resembling her look in the 'Look What You Made Me Do' music video. Her fans were buzzing all night long, wondering if this alluded to her Reputation era. When receiving the award, she announced her new album, Midnights, a montage of "13 sleepless nights" throughout her career. This news sent shockwaves through the Swiftie fandom, many of which are students at the school.
"I adore Taylor Swift and am counting down the days until October 21st for the album release," senior Gianna Silar said.