Biologist To High School Teacher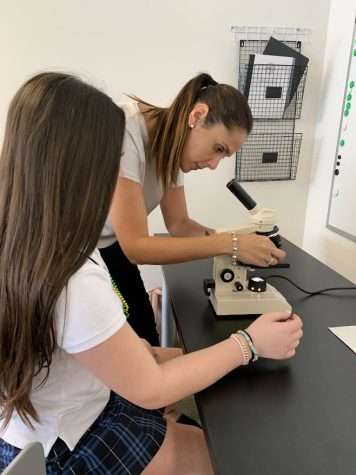 New Biology teacher,  Mrs. Pamela Holton did not expect to find happiness in teaching, however after one of life's many unexpected turns she found her true calling standing in front of a classroom, grading papers, and sharing her knowledge about biology and the environment with her students.
Growing up she knew she wanted to be a biologist. This passion led her to contemplate pre-med, then nursing school, then veterinary studies, but in the end her passion brought her full circle to the teaching profession.
"My becoming a teacher was a matter of an accident," Mrs. Holton said. "My teacher at FIU, had suffered an accident and he hurt his back, so he asked me if I wanted to substitute for his class until he got better, so I did. I substituted for him for six months and fell in love with every aspect of education." 
11 years ago, when she was about to graduate from FIU, Mrs. Holton's Lab supervisor asked her to teach his Biology and Environmental class at "Hillel High School" while he was on medical leave. Since Mrs. Holton was a biology major, had a minor in chemistry and later on, a minor in education, she was the perfect person for the job. Additionally, at the time, she was also the teacher assistant, working in the lab and helping first year students. 
"After teaching that first substitute position, I went ahead and finished some education classes at FIU and then I went back to Peru, since I'm Peruvian and American," Mrs. Holton said. "I taught in some schools there for a couple of years until recently when we decided it was better to move to the United States because we don't like the president in Peru." 
In Peru, Mrs. Holton taught at "Colegio Villa Caritas," which according to her, is very similar to the school because it is also an all-girls, Catholic school. However, in Peru they did not have block schedules or FOCUS blocks and they had one big school-wide lunch. 
Mrs. Holton ended up at the school due to an unexpected, happy coincidence.
"We were looking for an environmental science teacher and I received Mrs. Holton's resume," Sister Maryanne said. "When she started to explain her resume and started telling me about 'Colegio Villa Caritas' I told her that I actually did know her school because I was the principal at 'Colegio Villa Maria' which meant we had basically been rivals." 
Even though Sister Maryanne and Mrs. Holton had been rivals and only been a few blocks away for years, they had never met until now. 
"I not only knew the school, I also knew the standards of the school, and I knew it was a good bilingual school, and most importantly I knew it had a very strong Catholic identity," Sister Maryanne said. "Additionally, not only is she professionally competent, but I see her as an excellent woman and role model."
Despite her ten years of experience, Mrs. Holton has some worries about starting at a new school, such as not learning how to use all the different platforms and not getting used to the iPads. Nonetheless, she is very excited about teaching biology college prep and AP Environmental Science. She hopes to have a successful year, motivating her students to be curious about science, and making many friends in the process. 
"
"What I think makes Mrs. Holton a good teacher is that she creates an up-beat classroom and she is willing to listen to every student on any topic. So far the classes have been very engaging and the information itself in Mrs. Holton's powerpoints have been very interesting, which I didn't expect for an AP Environmental Science class." "
— Junior Isabella Trujillo
It has been one week of school and her students are already loving her classroom. She has made many students who thought science was boring a little more open to learning about it and getting excited about it.
"What excites me the most about AP environmental science this year is to be able to gain a deeper understanding of our surroundings, pass the AP exam, and to learn how to take care and sustain our environment," senior Isabella Trujillo said.  
Mrs. Holton is ready to leave it all in the classroom, with the hopes of inspiring the lives of many of her students so that one day, they can love biology as much as she does. 
"I hope that my students can see the passion I have for biology and that I can help them realize that science can be interesting and more than anything extremely important in our world today," Mrs. Holton said. "I want them to realize that it's up to them to change our world and the environment in which we live in, and it all starts right here in the classroom, by learning and understanding.
About the Contributor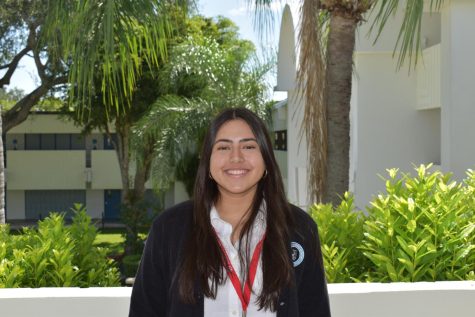 Isabella Baquerizo, Staff Writer
Isabella Baquerizo is currently a junior. As a sophomore she discovered her love for writing and journalism through Journalism I: News Writing & Reporting...