Behind Sage Dining
Sage Dining came to the school last year as the cafeteria opened for the first time since the pandemic. Working to make food for students and staff, with the majority having not eaten at the cafeteria since they started during the pandemic. They had to learn how to best serve the school as they had never partnered up with the school before. Now a year later, Sage Dining is a thriving and  is a fan favorite amongst the OLLA community.
Running a school cafeteria is not an easy task. Everyday the kitchen staff has to figure out how much food to buy to feed over 800 people daily, with many coming back for seconds.
"I go based on production records," said Melissa Yzquierdo, Food Service Director for Sage Dining. "Everyday the cooks do production records, there is a production record of how much
food we went through or if we didn't have enough. So the next time that item is up on the menu again I pull production records, look at what we made, and then I go based on that order. I've
learned the system pretty well here so we tend not to run out of things."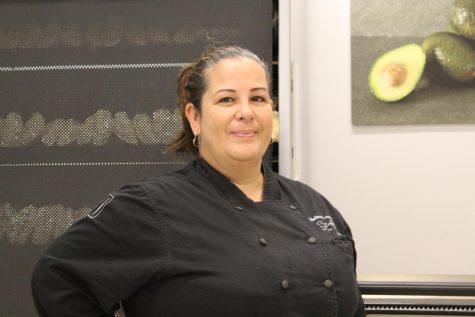 The cafeteria staff must prepare and cook big batches of food daily for hundreds of students and teachers, the kitchen staff must always accommodate food allergies and avoid cross contamination, a difficult and daily process.
"We train staff by doing monthly videos on cross contamination and allergens," Yzquierdo said. "Sage offers a lot of training programs behind closed doors. We can't prevent cross contamination in the buffet area."
Sage creates a wide variety of cuisines and menus throughout the year. The menus are created and offered on the Sage Dining app months in advance.
"We prepare the menus before we start the year," Yzquierdo said. "We do a full week's menu and I create the menu based on all the things that I saw last year. Using all the feedback
that I got from the girls last year, I tried to create a similar menu and I tried to add new things and more fun stuff. We change the menu three times a year."
The Sage Dining team creates diverse menus that students and faculty love.
"My favorite thing about Sage dining are the opportunities to try new cuisines. I love how most days we have healthy protein options and sides that make you want to come back for more,"
junior Anabelle Cejas said.
The students at OLLA really appreciate the effort that the staff puts into their cooking and how they make the dining experience here at the school  so enjoyable.
"My favorite thing is that the chefs care so much about us and the quality of the food that they make. I can be having the worst day of my life and it'll all be fixed with some rice and beans,"
freshman Sofia Caballero said.