Miami-Dade Best Female Athletic Program for 2019-2020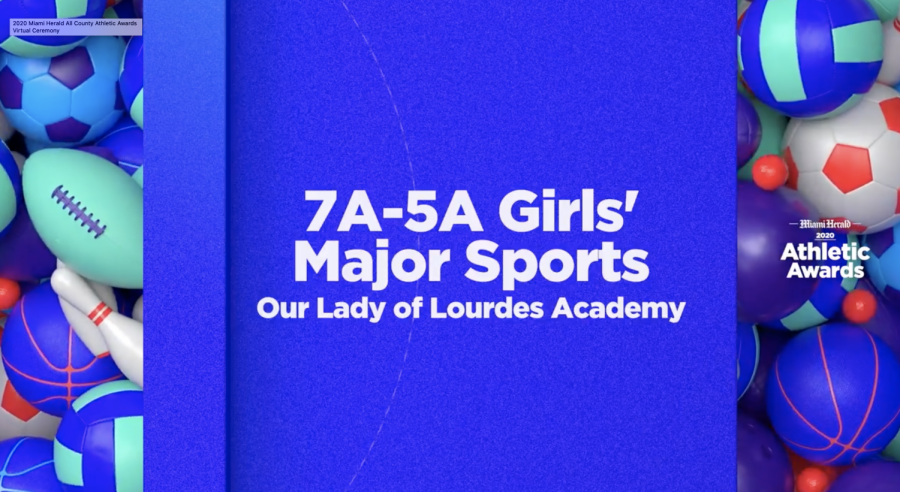 For the 14th time in school history, the athletic program was rated the best female Athletic Program for division 7A-5A. The award was announced during a virtual awards ceremony held by the Miami Herald on Wednesday, May 27.
This year's athletic program was honored with two Coach of the Year Awards. The first was awarded to Cross Country Coach Javi Jove. His team placed third in the 4A state meet, the top finisher in the county.
The second was awarded to our State Championship Winning Soccer Coach, Ramiro Vengochea. This was the seventh consecutive year he received Soccer Coach of the year.
Coco Aguilar, Mia Alexander, Mia Atrio, Isabel Guisasola, and Sophia Rivas were named First Team, All County in Soccer. Samantha Diaz, Sophia McMillan, and Alexa Sanchez were named Second Team, All County in Soccer. Mia Briones, Fran De Zendegui, and Caro Prieto were named Third Team, All County in Soccer. Gracie DeArcos and Sofia Perez received Honorable Mention in Soccer.
Madison Porras was named First Team, All County in Basketball. Julia Vazquez was named Third Team, All County in Basketball. Alicia Pagliery, Brooke Merdjane, Annie Lassegue, and Emily Mayor received an Honorable Mention, in Basketball.
https://www.miamiherald.com/latest-news/article229517199.ece/binary/DADEBASKETBALL1.pdf