Back on the Mat
OLLA's 2020-2021 Cheer Season
September 25, 2020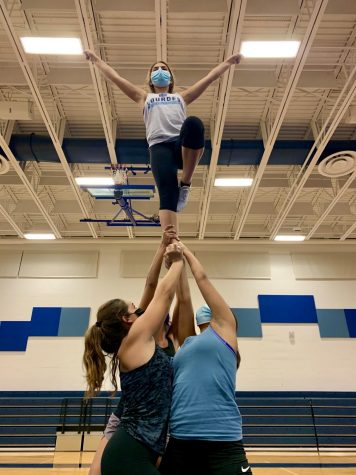 After cheerleading tryouts on August 29, the varsity and junior varsity cheerleading team rosters were officially decided. After months of quarantine, the athletes were excited to finally get back on the mat and work on their skills.
The team is especially excited to bond together through their common passion this season despite having a late start.
"Although this year isn't starting how we have planned, I know this season is going to be fun and exciting because of the different events that we will forever cherish," varsity cheerleader Alessandra Infante said.
The cheerleaders are hard at work and have officially started practicing in the gym. Focused on solidifying their current skills and building up to new ones, their coaches are confident that this year's team has amazing talent and potential.
"I am really excited for our 2021 season! I feel like last season has set an amazing foundation for us to build off of. We have some awesome talent this year so even though we started later than normal, our girls haven't let COVID stop them from chasing titles!" Coach Vicky Goudie said.
Hard at work to make it to UCA Nationals, the cheerleading team is determined to show their skills on the mat while staying united and positive that this season will prove victorious. Make sure to cheer them on at upcoming prep rallies, showcases, and competitions.