Fashion at the Capitol
January 20th's Inauguration replaced the awards season fashion reviews we'll miss this year. However, the First Family and inaugural guests fed our fashion-hungry stomachs with winter-esque looks and meaningful color schemes we'll never forget.
Vice President Kamala Harris, First Lady Dr. Jill Biden, and the Biden grandchildren were dressed to the nines in coats, dresses, and pumps that both reflected their personalities and cohesively expelled partisanship in the United States—the power of fashion. The essential women at the Inaugural event donned shades of pink and purple to represent the color of women's suffrage and the result of blending blue and red: the colors that represent Democrats and Republicans.
The monochromatic looks caught viewers' attention for their timeless, sleek aesthetic. Junior Olivia McClintock favored Dr. Jill Biden's Inauguration Day fit.
"I know the fabric and texture was a little dated," said McClintock, "but I think the entire outfit complemented her."
The majority of the women completed their looks with a matching mask: the first presidential inauguration with them as a mandatory accessory.
Some other fashion standouts that garnered attention were Ella Emhoff, Kamala Harris' step-daughter, and Amanda Gorman, youth poet laureate. The two were signed to IMG Models only days after the inauguration. IMG is one of the world's most renowned talent agencies with a roster including the Hadid sisters, Karlie Kloss and Ashley Graham. Emhoff wore a Miu Miu coat with orange details on the shoulders, and Gorman wore Prada from head to toe. Her sleek red headband, simple yellow overcoat, and poetry reading have had a withstanding impact, leaving Prada's high shine headband in red silk to be sold out.
Of course, the internet celebrated a few of the inauguration's fashion highlights including Lady Gaga's dove brooch and Bernie Sanders' knit mittens. However, ultimately nothing topped the timelessness of a monochromatic overcoat and seamlessly matching accessories.
About the Writer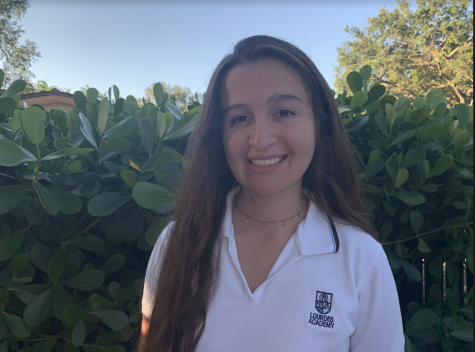 Andrea Valdes-Sueiras, Managing Editor
Andrea Valdes-Sueiras was a staff writer for The Grotto junior year. For the 2020-2021 school year she is the newspaper's Managing Editor. She feels...