Women's Day Career Fair
On Monday, March 7th, OLLA welcomed back 38 accomplished former Bobcats back on campus for the first-ever Women's Day Celebration and Career Fair.
As an all-girls school, Women's Day is an important opportunity to highlight not only the milestones and achievements of women in history, but to also inspire womankind's future. With this exactly in mind, we have kicked off the festivities starting with the English Department's quotes of powerful women writers in history displayed around the hallways of the Grotto building. The Social Studies Department has also placed historical biographies of famous women in history on the walls of the Bernadette Building, allowing the students to be fully immersed in the spirit of Women's History Month as they walk to their next classes.
Spearheaded by Olga M. Martinez '00, our Dean of Enrollment and Engagement, the Career Fair has been a carefully planned and highly anticipated initiative at school.
"
Our goal on that day will be to educate empower, and inspire YOU, affording you the unique opportunity to learn about careers that interest you from alumnae who are currently in those fields."
— Olga Martinez
Students were asked to fill out a survey about their individual interests for their future careers and rank them from one to five, in order to organize their personalized itinerary for the special day. The survey featured a wide range of occupational interests such as medicine, nursing, culinary arts, business, law, event planning, finance, art, and much more which allowed students to learn more about possibilities for their future.
After attending their normal classes, students were called down to the gym for a Keynote Address. The speakers discussed the importance of passion and perseverance in every aspect of your life, especially in your career. Students were inspired to rise above the opinions of others and difficult circumstances in their lives to pursue what they really love. During the address, the student body and faculty were given a short introduction of our returning alumnae.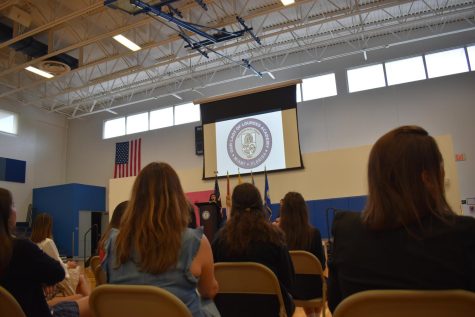 Following their prepared schedules, students shuffled along to their first breakout room. The alumni presenters were there to tell their unique stories, how their lives have brought them to this stage in their career and in turn give their advice for the girls. The accomplished alumnae in a variety of fields reminded the students how it was not easy to get where they are, however, if you have the drive and passion to pursue it, then you can achieve your goals.
There were several medical professionals in attendance as it was a popular choice in the survey, all with different backgrounds and specialities for the students to learn about.
"Having a doctor explain the process of going through medical school, exams, and all of the other things you have to go through to get to that point career wise really showed me how much dedication and planning you have to consider," Senior Paula Perez said.
Other careers paths such as business, finance, and real estate were also popular in the students' responses.
"Having a woman in finance present showed me the variety in which Lourdes alumnae have gone career wise and it showed me that girls from Lourdes can do anything they set their minds to," Senior Ana Larrea said.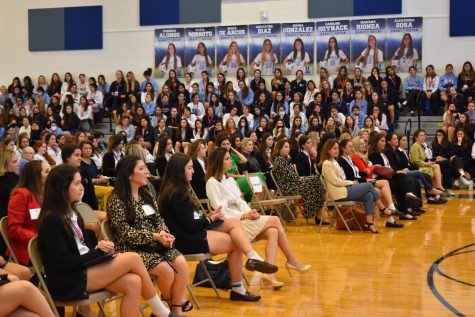 Overall, the event was a huge success and students, alumnae, and faculty alike enjoyed the celebration rooted in the school's mission to empower women to "face the future, strengthened by their faith."
About the Contributor
Mia Michele Aviles, Editor in Chief
Mia Michele Aviles is the Editor in Chief of the 2021-2022 Grotto Newspaper. Mia is a third year Journalism student, as she began taking Journalism her...