The Swim Team's Virtual Sports Banquet & Season Recap
The swimmers retired their caps and gear for an abrupt end to the school year. Their only form of closure rested in a Zoom version of their sports banquet where the girls were awarded their respective awards. Also, rising seniors, Isabella Lista and Alyssa Blanco share their end of the year thoughts and hopes for their last season.
Coach Brandon Murphy defined the purpose of each award and named its corresponding recipient during the season's official end, a virtual sports banquet. At the banquet, Isabella Lista was awarded the Rookie Award,a testimony to her skills she first showcased in the 2019-2020 season. As she looks back at the year, Lista summed up the season in three words: "new, challenging, and exciting." Despite conditioning workouts multiple times a week, Lista was able to find ample time for her school work as well as life on the team.
As a third year swimmer, Blanco believes that her life on the swim team stretches across the other South Florida teams she competes with. "My favorite part of the season was competing because I got to race against my friends from different schools," Blanco said. The team's spirit is evident at their meets. They spend a lot of time together, and the tan lines are evidence of it.
Lista's peers have helped her improve her swimming skills and expanded her group of friends across all grades. "The sportsmanship that all the girls had throughout the season amazed me," Lista said. Multiple wins throughout the spring testify to her mindset.
As summer rolls in, Blanco is excited for a fresh season of training and later competing. "I look forward to making stronger friendships with my teammates and hopefully seeing some new faces on the team," Blanco said. In the fall, the swim team hopes to dive back into their racing lanes for the start of an incredible season.
About the Writer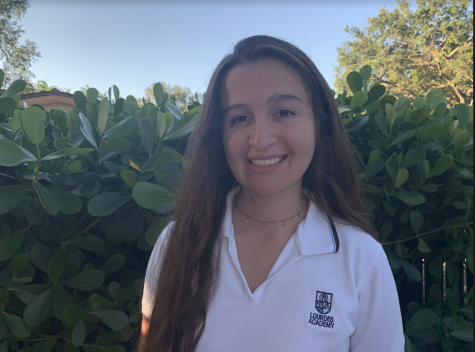 Andrea Valdes-Sueiras,
My name is Andrea Valdes-Sueiras and I became a staff writer for The Grotto junior year. I feel most creative when I'm writing stories and editing my...