Beach Volleyball Comes to OLLA
For the first time in OLLA history, a beach volleyball team is being introduced. Beach volleyball came to light in the 1930's in California, and has grown tremendously since, becoming an Olympic sport in 1996.
Unlike indoor volleyball, beach volleyball is played in pairs, leaving four girls on the court as opposed to the usual twelve.  Therefore, the Varsity team will consist of ten girls and another ten will be on the JV team.
With over fifty girls trying out and twenty spots available in total, the competition is expected to be fierce. Head coach of volleyball Pedro Penate shared some wisdom.
 "If you are planning to try out, I would advise you to practice beforehand," Coach Penate said. "Even playing a friendly game with friends is good preparation."
Coach Penate had the idea to start a beat volleyball team in the beginning of 2020, but he was unable to pursue his idea because of the effects of the global pandemic.
"I'm really happy to have the opportunity to oversee a second volleyball team at Lourdes, and I can't wait to see how the team does this season," Penate said.
This year marked Coach Penate's 11th year coaching at OLLA, and he was very excited to be exploring out of his comfort zone.
Tryouts begin this Friday, February 11th at Fuchs Park, and continue into next week. Athletic director Maura Herrholtz sent all classes an email with a  link to a google sheet for everyone who wants to try out.  The students who fill out the information in the link will receive further instructions and information as the tryout day approaches.
"I think that trying out is a great idea if you are looking for a fun, new way to work out while having fun with friends," freshman Ella Garcia said.
Beach volleyball will be practicing about 3 days a week, during the season.
Along with practice throughout the week, the girls who make the team will be playing schools such as Carrollton, Westminster Christian, Florida Christian, and many others until the end of their season in late April.
About the Contributor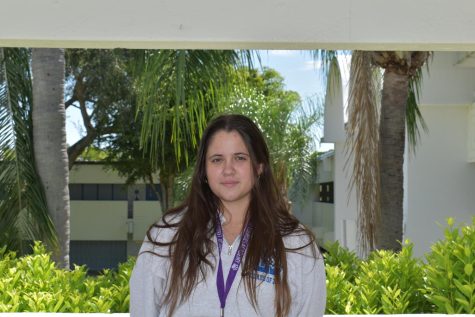 Danielle Noriega, Editor in Chief-Content
Danielle Noriega is a senior at OLLA. This will be her third year on the Grotto News staff. She is a part of many clubs and activities at the school. She...